13-01-2004 Got the messages that Qinza got the title DKK-racewinner 2003 by the Danish Kennel Club. My God, this came as a total surprise to us! =))
10-04-2004 "little Stockholm international show". Qinza´s first show this year and she ended up with CK, CACIB and BOS. Good work my girl =)
17-04-2004 Special show for Belgians in Gävle. Qinza got CK, BOB, BOB-Champion, BIS-3-Champ and BIS-3 total. This was her last show in Champion-class. In May she will be 7 years of age and then she will start in veteran-class =)))
Our plans for the rest of the year is to put her up on shows at SBU, Växjö and BIG Stockholm. We will also compete in obedience level 3 this year...... but first she will be grandmother and "extra mother" to Injas up-coming litter!
05-07-2004 Injas puppies is here and Qinza is more than interested, but she has to wait until the puppies are a bit older.
Qinza is taken care of the puppies as if they where hers!! She even started milk (just incase), but I will not let the puppies get the milk because Qinza got stones in the udder. She is just lovely to look at and Inja is so calm when Qinza is helping out. 11 puppies is hard to raise!
15-09-2004 A strange calmness has enter the kennel..... The last puppies have taken the flight over the Atlantic Ocean and Qinza is actually looking for them! Something that worries me has also come up. I can feel some "knots" in Qinza´s udder. Let us hope that it is not anything serious...
05-10-2004 Qinza´s "knots" has spread out with a scary speed, so at the vet. today we decided to take the whole udder, at one side, away and are hoping that it will give her 5 more years.
14-10-2004 Got Qinza home after the nights surgery. The udder is sent for analysis, but the vet. did not sound hopeful...... oh no.....
09-11-2004 The time from the day when we got Qinza home again up to now has been terrible. The vet. called us and wanted a new appointment. When we were there she told us that Qinza got two forms of cancer. One bad slow growing and one very mean and fast growing! =( She gave Qinza 1 - 3 month left to live! I could not get any air....
Qinza has now got from bad to worse. We can now see "knots" in the other udder and she is not so willing to go outdoors anymore. I can not live to see her die in front of my eyes, so today we put her out of her misery.

MEMORIAL

I could not, even in my wildest imagination, believe that the sorrow, pain and the great gap she left in me, would be so hard to live with.
Am I ever going to be released from the pain that is eating my heart up? Will we ever again get a girl with the same spirit as Qinza had?
I will pick you and your mother up at the end of the rainbow Qinza, then we shall never be apart again.
Thank you for everything you gave us!
"Mum and Dad"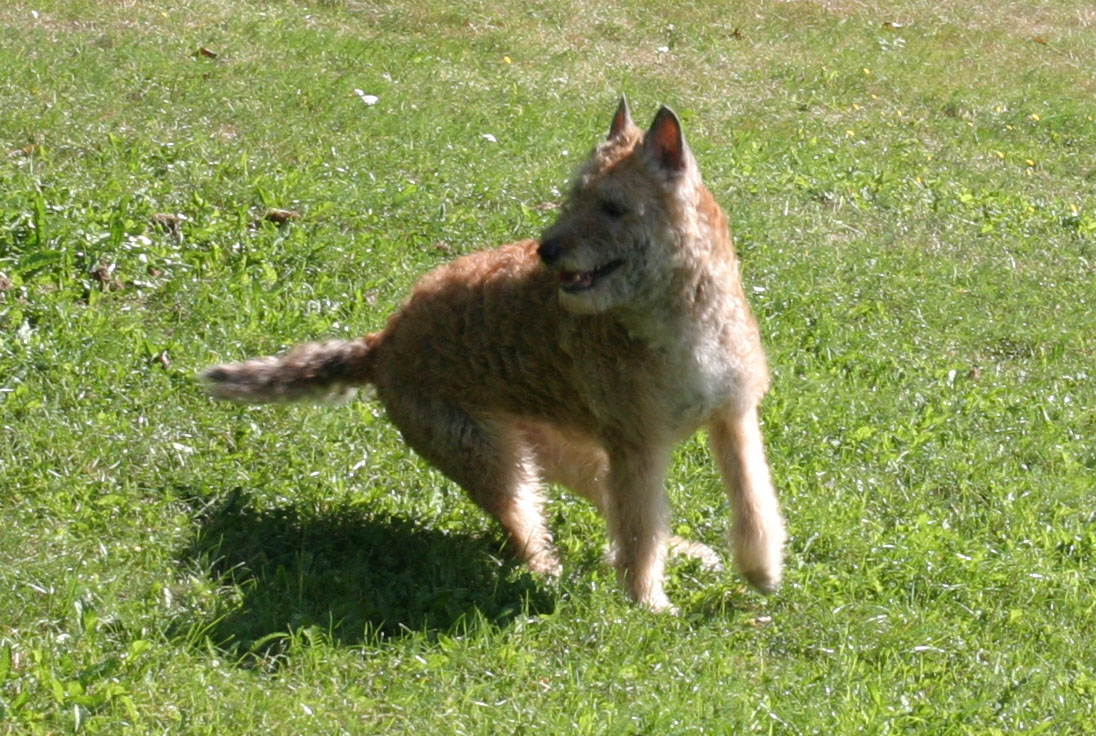 Qinza

Correct Scissors-bite
HD-UA
ED-UA (0/0)
Eyes checked -clear Character tested
MH. Done with no fair of gunfire
KORAD
Approval try-out for military-guarding dog
LP1
Moved up to lower class tracking
CK, CAC, HP, BOB, CACIB
Norwegian Champion
Danish Champion
Swedish Winner 99-01, 2003
Nordic Winner 2000
Norwegian Winner 2002
Copenhagen Winner 2003
DKK-rase Winner 2003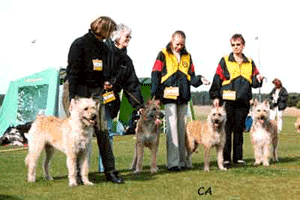 (Photo: C. Appelfeldt)