The new year 1999 started as good as the last year stopped!
On the first International show of the year, taking place in Göteborg on the 9th of January, she took CAC (nr7) best bitch, first prize in working-class and BOB.
This year is not going to contain so many shows for Qinza. We are going to concentrate on tracking and people-seek and, off course, obedience. She has to move up two classes in either seeking or tracking to get her Champion-title. We are planning to work very hard to start competing in working-class late autumn or in next spring.
I believe she is going to have her head full anyway, when her new brothers and sisters are coming up in late February 1999.
13-03-1999 Qinza took her first prize in obedience class 1. With this she is the second in the litter to have made it. She ended up at the third place in the whole competition.
03-04-1999 at the big show "Little Stockholm". Qinza got Champion quality with honor prize, Reserve-CACIB and became second best bitch after her sister Vajert Qindra! The finally was hard between the bitches and after a lot of running in the ring the first place went to Vajert Qindra for her marvelous moving schedule! Congratulations!
17th of April 1999 was a rainy day. Qinza and I was competing in obedience at Gubbängen in Stockholm. The rain was so hard that is was almost impossible to here what the man said, telling us how to move on the field. Qinza did not mind the weather and neither did I. She got 184,5p (out of 200 possible to take) and ended up charring second place with an other competitor! I can not explain it, but somehow we did not notice the rain for the rest of the day.
The day after, is going to be a day we probably never will forget. We went to a official show for working class-dogs (FCI-group 1 and 2) at Gävle Working-club. The judges was Paul Stanton and Kurt Nilsson. Qinza got CAC (nr8) best bitch, first price in working-class and BOB. The Best in Show finals was the most joyful I ever experienced (except for the feeling when holding my two daughters after giving birth to them) in my life. Qinza and I ran and ran lap after lap and she was kind of floating over the floor. She placed herself tree times in the show!
BIS-2 Young-class

BIS-1 Working-class

BIS-3 in the total show for adults
WOW! What a success, not only for us, but for the race Laekenois!
While at it, why not try to take the diploma in obedience?
So we tried, the 1st of May 1999, but no way this time. Qinza did something she never done before... she did not lay down when told to under walk! That was enough to lose the last point to get the diploma. Anyway she placed in second at the competition. We will try to get the diploma later!
Qinza got her 9th CAC at the official show on Katrineholms Working-club. She got BOB and was selected in big final but second round up the judges thanked us for today.
July: here on the east side of Sweden the summer has been just wonderful. Sun and almost 30 degrees fahr. every day. The family have most of the days been at the beach, or more like it IN the water beside the beach, relaxing, swimming and cooling of. So it was with mixed feeling I packed my bags and the caravan, took Qinza with me and sat of for the long drive to the training-camp in Backamo. I had in early spring resign us to a weeks training-camp in working-class: people-seek.
I never ones regret going, despite the rain.
What a camp! Tanks to Anneli (our instructor) Daniel (our right-hand man) and Sven Järverud (our mentor) plus all in the kitchen for the very testy food! And to all of you that might read this I just have to say: Join in next year if you can! At least I and Qinza will if we can. We hope for and believe that we can start in the class person-seek next autumn.
99-08-22 Swedish Winner Show in Norrköping. Judge is Wera Hübenthal, Norway. Qinza got CK, HP, CAC (10! In a road), 1bkl, 1btkl, CACIB (no 2) and BOB. Got the title: Swedish Winner 1999. She beats a Champion male, that I am very found of.
Ok, so can you win two titles at the same week?
Wednesday evening, the 25d of August, we attended to one obedience competition to do a serious attempt to get the Obedience diploma in level 1. (LP1) Judge is Torbjörn Borgquvist. We got start number 13!
It was not a bad number after all! Not for us anyway! Qinza won the whole competition with 187,5 points! and got the title: LP1!
Now we will train hard for obedience level 2 and working class tracking. She is almost done to start in obedience level 2.

QINZA BECAME SWEDISH WINNER 1999
The 22d of August in Norrköping!
....... At her next heat she will be mated!
Qinza
Correct Scissors-bite
HD-UA
ED-UA (0/0)
Eyes checked -clear Character tested
MH. Done with no fair of gunfire
KORAD
Approval try-out for military-guarding dog
LP1
Moved up to lower class tracking
CK, CAC, HP, BOB, CACIB
Norwegian Champion
Danish Champion
Swedish Winner 99-01, 2003
Nordic Winner 2000
Norwegian Winner 2002
Copenhagen Winner 2003
DKK-rase Winner 2003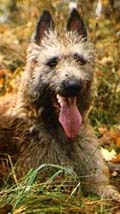 (Photo: Linnéa/Kennel Vajert)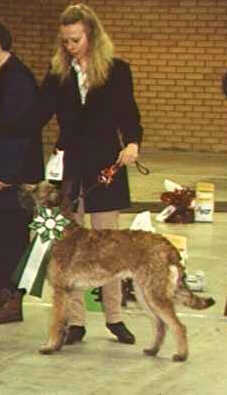 (Photo: Christina/Kennel Vajert)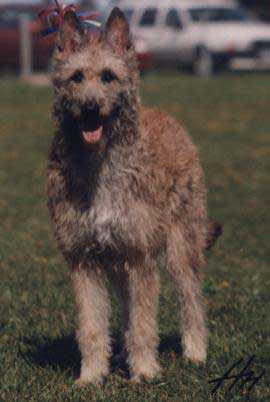 (Photo: Hexen House)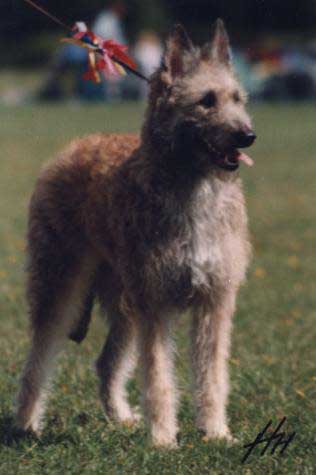 (Photo: Hexen House)