2008-07-04 WW-Show in Stockholm today. Raika VG in open-class. The judge wanted more coat and...hm.. yes... it will come =) She got very nice critic and behaved great the whole day. She has also been showing the way to be for Brizna this weekend. Raika is very social and has thought Brizna how to act with strangers even though you might be in heat! and Brizna has been a good student. ;)
2008-07-12 At Finspång Working-club show today Raika got CK+BOB and lovely critic from the judge. Taiba (g) from Kennel Sinjanus was with us too and she became SUCH today.... Raika want to be that too one day........ ; )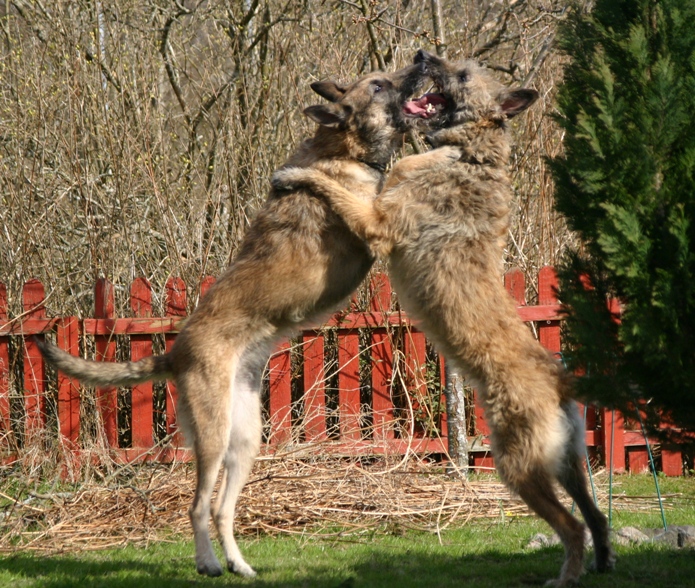 Raika and Brizna playing.
2009-05-02 Today Raika made the mentally-test in Finland. She approved with 169 points out of 300 possible and with no fear of gunfire at all. =) Jippiee!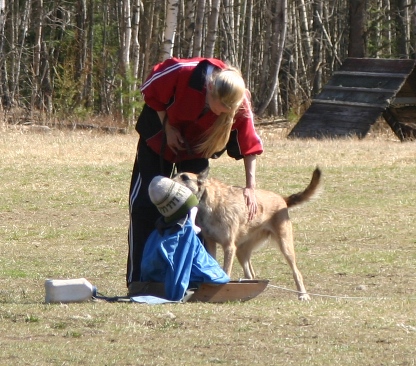 We also had Rex with us on the trip and he scored with 248 points and no fear of gunfire as well. Nice to have to good dogs with you and to test/show them in their fathers origin country.
A warm thank you to Sari and Marjaana for coming with lunch basket! Looking forward to se the film and all photos that where taken during the test and the coffee break off course. Thank you for coming and good luck with the litter ;-)
2009-09-19 Today we did the Swedish- mentally test. Raika did nicely at the track and had no fear of gunfire. The score was not enough to approve, sorry to say. The fact that she is in fake pregnancy might have to do with it. One thing that surprise me was that she did not wanted to play with the test leader!?!?! Despite that I am very proud over her and our daughter that where in the other end of the leach today. Good work you too =)