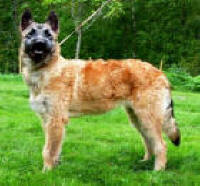 12-08-2007 Askersunds Nat. show.
Gaļa is entering puppy class and got HP and BOB. Among 44 puppies in the final she ends up as BIS-3 total =) WOW! How about that!
Gaļa and I has started obedience class =) It is just everyday obedience but I think it can be handy. It turns out she is very good at this - keeping contact and a nice heeling-position. However she finds it a bit hard to overlook the fact that both Even and Raika is on the same class and now and then she just have to se what they are up to.
During our class almost the same day that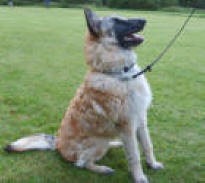 Gaļa turned 8 month she DID start her heat.... like I thought she would... That means we are not longer welcome into the felts where the others are but we do our training at home and I am at the class to help Angelica with Even and Jennifer with Raika out. =)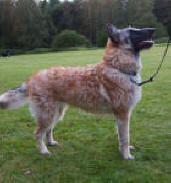 Thank you, Monalie for the lovely photos taken at the working-club. =)
They are taken with the camera at a mobile phone! Not bad, right?!
After the heat we started tracking and she is a great tracker!
01-01-2008 Happy birthday Gaļa =) Today she is turning 1 years of age and we celebrated it with is - well she did most of the eating actually!
06-01-2008 Today Gaļa got HP and best junior at Swedish Winner show 2008.
27-01-2008 At an in-official show in Örebro Gaļa got HP, BOB and ended up with BIG-5. WOW! The judge liked her very much and was hoping to se more of her in the future. You bet...... ;)
The 14th of June 2008 Gaļa made her small mentally-test. She did it quite well but is afraid of gunfire! =( I was surprised over this because we have tested gunfire several times and she has never reacted before.
2009-06-15 Gaļa has now moved back to her breeder. I had big hopes that she should bring a lot into my lines when I bought her, but her fairness to gunfire and level of stress puts an end to that. We have looked for a new home in Sweden for her but no one responded. I am very unhappy and it hurts inside........... Good luck little love and I do hope you will end up in a family that will love you as much as I do.