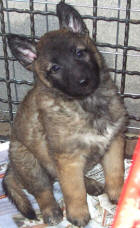 Welcome home Gaļa!
Now, at last, we got two females again and now we are keeping our fingers crossed that Gaļa will be as nice as Even while she is from the same breeder. =))
Gaļa is wild and from the very first day she acted like if she was born here. Brave, outgoing, open and friendly girl that want explore the world =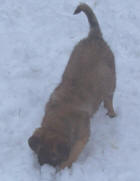 Is leaving the yard!
Snow is great and she is sticking her whole head under it and running forwards.... crazy girl =)
10-03-2007 Today we have been to friends house for a visit. Gaļa, that always thinks she is the biggest in the pack, got the lesson that she can not behave what ever against older dogs. She also played with a am.staffoshire and despite the different in size they found a way to play..... Tug and war!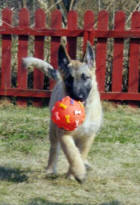 We have been to the vet. today, 29/3, for her 12 weeks vaccine. She is now in a weight of 8,5 kg and was very good at the vet.
Gaļa now has a problem.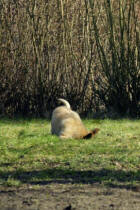 She is looking for the hole! Last evening I filled it up so it does no longer exist. Well Gaļa knows how to salve that minor problem, she just digged herself a new one! She also love to help me in the garden..... well no, she is not digging where I want.....
Gaļa did her debut in the show-ring at the 17th of May. SBLOs had there yearly race-special on Ivön in Skåne. She got HP, BOB and BIS1 puppy!! WOW!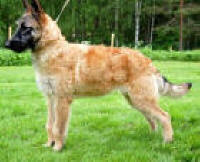 1st of July 2007, Gaļa is turning 6 month of age!
She is very social, charming and way to found of flowers for her own good.... She just love and has to dig in my garden and she is eating up my Chocolate flower, bleeding heart one or two cactus despite the thorns and my Orchids.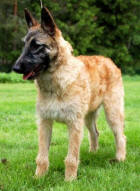 The 24th of July Gaļa started her first heat! One week before her 7 month day. Boy does she got way to much hormones in her body. She is NOT herself and a quick count says she will be in heat at SBU this year...... oh no =(
Strange - just after SBU she stopped her heat? Or should I say it never really stared. This was probably just a pre-heat, so my guess is that she will start for sure one month from now!
She does go along smoothly with Daphne and Raika and she just LOVE little Brizna..... Even is still treated as a rug (to pay and drag in) - something she can not do with Roy because then he will tell her how to behave with older males (Just one years older does count if you ask Roy).