This is Kennel Vajert´s Cairnterrier! She is a lovely little girl. Always so happy and full of joy. Our Laekenois have to behave because, despite her size, she is the boss in the house! (At least if she got anything to say about it.)
She is the funniest dog I ever got. If the Laekenois is the "clown" of the dog world, the Cairnterrier is a "joker" for sure. Independent, always up to something, stubborn, loves everybody and seems with their way to be, always get into the harts of people.
The Charm with this breed makes the dog much bigger than it really are in body.

18-09-1999. A drive-in show at Eskilstuna Working Club. Our oldest daughter, Angelica, is showing Titti for the first time in children with dog-class. They got BIS-5!
13-05-2000. Drive-in show at Apollogruppen. Our youngest daughter, Jennifer, is showing Titti for the first time and they BIS-1!
MEMORIAL
2003-12-22 Only two days before Christmas-eve we lost our beloved girl in a dogfight. She left us with a big space of emptiness and it will take a long time before we get over this- if we ever will.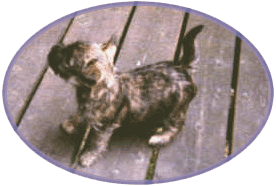 (Photo: Angelica/Kennel Vajert)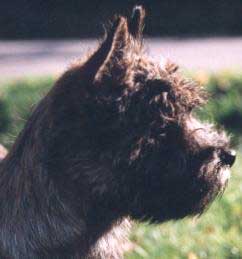 (Photo: Linnéa/Kennel Vajert)