This is kennel Vajert´s broudbitch. She is a very tuff girl with a spark in her eyes and with an enormous working capacity. She has earned an obedience diploma in the first class (LP1) and one first price in second class. We are now working on a first price in the third class as well. That is the next highest class of obedience in Sweden.
She has moved up one step in working-class tracking. Has approval in military guarding, in military tracking and got no fair of gunshots at all.
She has approval in wind and small mentality test and got 177 points in the big mentality test called "Korning". This test is in two parts. One is a very hard character test with gunshots and the second part is an description of the dog's structure.

She has earned the CAC needed for Championship in Sweden and only needs to finish one more class in working to complete her Championship. She got 3 CACIB, from two countries and has also earned a CAC in Denmark.
She earned the title "Copenhagen winner 1998" (KBHV-98) at the Danish Kennel clubs International show the 19th of September 1998. At this show she went on to Best of opposite sex.
She is rated - UA, on both hips and elbows (OFA-Good on hips and Normal on elbows), correct scissor bite and a very dark read tone of the coat.
When she became a mother she turned out to be a perfect one! She took very good care of her puppies and gave them a good start in life. If you are interested in a puppy or just the breed, you are welcome to contact us.
We can now tell you that a new mating has taken place with the same mate as last time. (more information under "litters" and litter 2) The puppies were born the 24th of February!
When the puppies have moved to their new homes we will take up the training in tacking and obedience.
At SBU (Swedish Show for Belgian Shepherds 1999) Effi became the 4th best bitch. The biggest success was with the L-litter. On both days Vajert Liske took BOB-puppy and on Sunday Vajert Lobo took BOS.
On Sunday we became both BIS1 in brood bitch-class/puppy and in breeding-class/puppy!
Effi got the title "Nordic Winner 1999"on the Swedish Kennel clubs International show: Big Stockholm "DOG-99" 11-12-1999. She got BOB and CACIB!
Pedigree
Effi

Correct Scissors-bite
HD-UA
ED-UA (0/0)
Eyes checked-clear
Gk Character test
Approval try-out for military-guarding dog
LP1
Moved up to lover class tracking
CK, CAC, HP, BOB, CACIB
Nordic Winner 1999
Copenhagen Winner 1998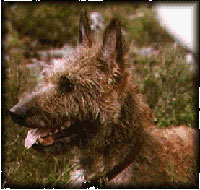 (Photo: Linnéa/Kennel Vajert)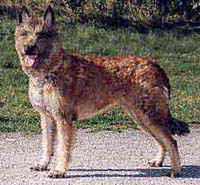 (Photo: Linnéa/Kennel Vajert)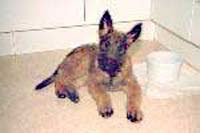 (Photo: Linnéa/Kennel Vajert)