Blog during 2011
DECEMBER
2011-12-30 Dropped of Angelica at the train station. She will celebrate New Year with friends and we will celebrate it with mum coming over, if the weather approves....

Wish you all a nice ending of 2011 and a Happy New Year 2012

2011-12-26 Today Angelica, Cassandra and I went to Grästorp for archery competition. It is the first time both are at the same one =) Angelica took gold in her class and Cassandra got silver in hers. Soooooo proud of them both! Congrats girls ;)

2011-12-23 Packed up the car for the trip to mother where we will spend the Christmas this year. Wishes you all a Merry Christmas!


2011-12-19 Angelica came home and now we got a few days to get everything ready for Christmas time =) and also go to archery practice.

2011-12-13 Breakfast in front of the TV this morning, to enjoy this year first Lucia celebration. Stephanie got a high temperature and is to ill to even care. Sent a sms to Angelica to ask if they had any Lucia show at the university, but the answer was no!?! Strange because they do have music students and the tradition with Lucia is very strong in Sweden.

Cassie was Lucia at the daycare center and a bit worried that I would want her to ware the real Lucia crown (the smith one) for real candles. She did not want the candles to drip stearin into her hair. So cute! Off course she will not ware that crown. She must be older to ware it because it is way to heavy for her. All the cowberry rice we picked earlier this month is still at the daycare center where they did the advent bowls, so this time the crown got glitter instead. Not they way I like to see the Lucia crown, but .... it worked.

2011-12-12 It have now turned out that we know a lot of people that got this strange fever illness and sore throat. Talked to mum today and could hardly hear what se was saying. It do not spread over the telephone is it?..... At least Cassandra is back on track again! Nice! However, the daycare center called because Stephanie got more and more ill during the afternoon - ok, so now it is her turn. That means she will miss the Lucia celebration tomorrow =( Oh, she will be very sad over that.... well, better sick now than closer to Christmas anyhow.

2011-12-11 Third of Advent: Still with sore throat and with fever again, but actually better than before. So what do you do? Stay in bed resting to get well sooner.... hahahahaha.... nope.... not in this house. Cassandra felt much better so she, I and Stephanie decorated the gingerbread we baked the other day. after that I had fever again and had to get back to bed.... =(

The snow is more or less gone, and the storm is back. this time we had the electricity the whole windy time. at least something. We have a nice time laughing when the dogs are out, at least the youngest, who are throwing themselves over everything that looks white just to realize it is not a snowball or as much snow you could roll all over it..... lol.... for their, and the kids sake, I do wish it will come some more snow again.

2011-12-10 If you go up to early you end up in bed again before you know what happen.... and neither Cassandra nor I are any exemptions to that... She also developed a terrible caugh - a deep one.

Despite how we feel we had a very nice dinner to celebrate Göte and mine wedding day. 23 years it is today.... Boy, where does the time go by? The desert we had in front of the TV and at the same time the the dinner guests of the Nobel price got theirs! ;).

Angelica has competed in archery today and got a new silver medal. Great done girl and congratulation! =))

2011-12-08 It is some strange virus that both I and Cassandra got. Today we felt a bit better again, so I went back to do some of all things that have to be done before Christmas. I do not have time to be sick now - that's it! Well, thinking of it, better now than closer to Christmas anyway....

The first snow arrived on Monday and a lot of it too! Tuesday, it filled up and both Cassandra and I laugh over a very surprised O´ Boy that during night had forgotten the white, cold and wet on the ground from yesterday. Wednesday we had sun and in the afternoon it started to snow again, but today it is raining so there is not that much snow left. Sorry to say the temperature is getting lower towards the evenings making the streets icy and there have been a lot of accidents out there. Do not like! At least one good thing to be sick and inside - you do not have to get out on the roods risking to end up in the ditch somewhere. ;)

2011-12-04 Second of Advent: Yesterday I and Jennifer went to Marieberg to get some Christmas presents and other stuff. We had a very nice shopping day. In the evening we celebrated Stephanie's baptize day =) with candle and a god dinner. A worry has started: Both Cassandra and I are starting to feel a bit strange in body. Are we going to be sick now? Feels like it... :(

Today I, Stephanie and Cassandra made the gingerbread train and everything else that goes with it. We also made the house and the outside privy. The decoration has to wait because both Cassie and I felt more and more sick towards the evening and it took not long before we both had high fever and had to be put to bed =((

2011-12-02 Well then - we are in the month of Christmas, and this year the snow is shining with is absence! Last year, and the year before that, we have had over 1 meter of snow already. Honestly I can not say I miss it except for one reason - it becomes so much brighter outside with snow.

The worse hurricane-like winds, number 2 in order, has calm down and we lost the electric power this time again (as always it feels). The prognoses says more winds to come our way. brrr... Both the Swedish Belgians club magazine "Belgaren" and the working club magazine came the other day. =) A lot to read, but it has to wait because the family have, as always in December, a busy time. The Swedish saffron bread, "Lucia cats" we made last week is already long gone! Well, well, I guess we just have to do some more then and while at it (baking time) we might as well do some coconut tops too ;)

This weekend the girls and I will do the house, outside privy and train of gingerbread for the landscape. Christmas gift is raped in as the come home from the store. The girls are training on Christmas carols and songs for Lucia to be prepare for the yearly event at the daycare center. The dogs are running like "main jacks" in the garden, which starts to like more of a mass of mud than a lawn. Ok, admit there is one more reason to miss the snow.....
NOVEMBER
2011-11-27 I sure do not know where the time goes by and now it is 1st of advent again! The day has been hectic. Clear the moss, fixing the candlestick of advent, put up the Christmas stars and the electric candlesticks in different windows, put up the Christmas curtains and clean up the house. Outside we had hurricane-like winds and the electric power went of three times. We did not mind, even though it was a bit scary, because we had candles everywhere in the house ;)

Kristin and Azka went up for the small mentally-test today. Azka do not like strangers, love people when knowing them but she has to meet them a few times to get there, and it was shown clearly at the test today. The describer stopped the test. However it still is a "knowing mentally status", so now they can start to compete in both obedience and working. Good luck! :)

2011-11-26 Cassandra competed at her home club today. The competition is called the "Christmas cheese". She got a new personal record with 321 points and she had to experience reversed start order for the first time today (For you not knowing the archery - when they stat to shoot the shooter A and B starts first, C and D next. After lunch C and D starts first, A and B last). No problem for her at all! Good girl!

Today we say congratulation to the "puppies" out of the A-litter because they turn 2 years old today! eh... already?

The week, that past by, have been rather irritating in one matter. Facebook - AGAIN! I participated in some debates and suddenly I could not write, do "thumb up", write in the debate or on my profile!?! However I could see everything and play the Viking game. After a error notice to the border of FB it took about 3 days and everything started to work again. Let's se for how long this time...

2011-11-24 Today the girls and I baked the Swedish saffron bread, "Lucia cats". They became very tasty, much better than last year, and I wonder if that is because we used an "old" recipe without the alcohol last years recipe said we should have. ;) (To explain the alcohol part: It stood in the recipe you should ad a spoon, or two, of alcohol to draw out the flavor of the saffron, so we did but it just tasted strange!)

2011-11-12 Both Angelica and Cassandra competed in archery today. Angelica in Skåne at 25 meter indoors and ended up on 4th place, with just a few point from a new personal record! Congratulation girl! Cassandra did her debut in Finspång at 12 meter indoors and she did a great competition!

The day started with a Cassandra that was so nervous she shivered as if she was freezing. After the 3 first arrows most of the nervousness where gone and after 9 arrows she was total in on how it works at the competition and felt it was very fun! The half result (30 arrows) became 160 points. Lunch - we had pasta salad, bread and drinks. Cozy! After lunch the second part of the competition started. It was clear that Cassandra became very tired in the end of the competition and not so surprising thinking of the fact that we went up at 06.20 this morning and the time by now where almost 14.00. She managed to concentrate and got a total point of 317 and turned to me with a BIG smile! She said she want to do this again and that feeling did not became less when she was told that Angelica did 210 points (if I remember correctly) at her first indoor competition in the same class and when she competed she have had training in almost a year. The trainers at our club also told her that a very good shooter at our club - Karl - did his first with a score at 147 points and he, like Angelica, are now at the top in Sweden! We sets the personal record for Cassandra on 317 points and that after only 4,5 month of training (where 1 month is indoors) Wow! Super girl! So proud of them both! :)

After the competition we went over to Finspång´s indoor arena where the training camp this weekend where located. How exciting this weekend turned out for Cassie, first a real competition for the first time and then a training camp also that for the fist time! The tiredness Cassie felt where just blown away when I left her at the camp and started my driving back home. Next competition will be the 26d of November and then at the home club. After that Angelica and Cassandra will compete at the same archery competition (in different classes and branch off course), for the first time, and it will be the 26th of December. I am so looking forwards to that. :)

2011-11-05 The archery training today was a bit special. NO shooting at all. Instead they where at the Spartan health- and Kettle bells center in Motala. There they trained balance, coordination, strength and mobility. A very fun training and they all where exhausted afterwards. Cassie got a lot of credit for trying so hard to keep up with the others :)

2011-11-03 Up early, despite the lack of sleep, to hook on the empty trailer and start the drive back home. Left the trailer at the gas station and after dinner the whole family went to Motala where we split up. Göte and Stephanie went to shop grocery while Cassandra and I went to the archery training. This evening it was a training for upcoming competition with shooting, how to print down the score into the protocol and about what is allowed and not at the competition. Cassandra did great and seems to be a quick learner.

2011-11-02 Up early to continuing unpacking. We went over to the friends apartment, where Angelica has been sleeping until now, to get her stuff. After that we went down town again to shop some more. We had to buy a new curtain rod because the 3 windows in the living room make a total length of 4 meters, but it turned out you can not get a curtain rod that long!?! We had to buy a middle rod to put between the other rods and that make the whole rod to sag a bit... it is now the box with "things to keep just in case" (you know the one you often think why you do not go through and throw away thing you do not use) is coming handy! I found a holder (for the midsection of the rod) and a lot of old curtain hooks to solve the problem with - came out very nice! ;-) Sorry to say there was "little Saturday" this evening, so 3 different parties where carrying on in the building = non sleep until the daylight started next morning..... sigh!... grrrr....

2011-11-01 Early this morning we hocked on the moving-trailer to the car en went down to Angelica in Växjö. After empting the trailer we went into the city to grocery shopping. Back at Angelicas apartment we unpacked the grocery and started to unpack the boxes. We had Asian dinner, very tasty, and after dinner we went back to unpacking. I fixed the new lamps and put them up and light there was ;) We felt to sleep rather late this evening.
OCTOBER
2011-10-31 We picked up the moving-trailer today and filled it with Angelicas furniture and boxes. Finally she can move in to her own apartment at Campus (University) in Växjö. Tomorrow I and the girls will drive everything down and help her unpack. Nice!

2011-10-23 Up to get breakfast and a long walk with the dogs before entering the show day 2. As yesterday we had early numbers and the judge Jean Lawless from Ireland repeated the yesterdays "reward" towards Rex - a new VG. Brizna, how ever, got Exl, CAC and BOB. Very nice! and I felt the trip was not useless in this matter after all. After the show we had some coffee and hugged al new friends good by, with the hope we will soon meet them again, and took of towards Sweden. In Karlskoga we refilled the gas and decided to have dinner. We had promised the girls to have pizza so we stopped at the first pizza-restaurant, but they did not have any! They could give us sushi and some other dishes but no pizza at all. It turned out the chef was ill that night. Well, just to get back into the car to drive on. In Degerfors we found a new restaurant and the pizzas we had was great!

Just after 19:00 we stopped in Tibro to pick Boyo up. He had been with Alpha the whole weekend. Thank you so much for the help! While we had coffee Maria told us about their weekend. She and Alpha had been on military training and Boyo went with them. His training was contact with strangers and to keep quiet in the base-camp! (He did his best.....) ;-)

It has been a very nice trip and the girls loved to stay at the hotel. Back home we where very tired and happy when we all when to bed early. Thank you all for making this weekend such a nice one!

2011-10-22 At 05:00 we came to Charlottenberg just before the border. So far the trip has been good, but I have had no sleep after all. Refilled the gas, much cheaper in Sweden than Norway, and drove the last miles to the show and the hotel (at the same place!). Do not ever trust the GPS! The last part it wanted us to go a very strange way and we found ourselves on a muddy road for.... tractors..... and in an angel uphill I never seen like it. If it had been wet we would not have make it to the top! At the top the road was a normal again!!! Anyhow we made it up and had only 15 min left to the hotel (probably a shortcut then...) We sat outside the hotel and had our breakfast in the car. very nice and the girls liked to have a "car-pick-nick". After that we hade a long walk with Brizna and Rex before entering the show. We had early start numbers and the hope for the day where to get CAC on both Rex and Brizna but the judge Anna Brankovich from Serbia had an other opinion. Rex was "rewarded" with VG and Brizna Exl, but she held on to the CAC - felt a bit surprising in Briznas case but that happens. We had a very nice time at the show where we had the chance to get to know a lot of belgian lovers from Norway and we also talked a lot to "old" friends from Sweden.

After checked in, I went to bed to get a short rest before dinner and the girls went of to play in a children's-room they found at the same floor. When it was time for dinner we went downstairs and had a lovely buffé with different dishes and a lots of nice deserts. We had a great time with a lot of talk and laughter at our table and we talked about almost everything - not just dogs, training, breeding etc. While we had our "grown-up" time the girls went of to play with some new found friends in the same age as them. After dinner Rex got some training. Thank you so much Kim for your time and education! =)

We did not need any lullaby to get to sleep this evening..... Tired we all went to bed and fell into sleep instantly :)

2011-10-21 (22) 00:30 Woke up the sleeping family to make them eat a steady "breakfast" before leaving for Norway. I have not slept at all, thinking I can get some in the car. Instead I have packed and checked several of times that everything is where it should. The whole family is going for a 2 days show in Norway with Rex and Brizna and the girls are so excited that we are going to sleep in a hotel. ;-)


2011-10-11 The weekend that was we attended at the Viking autumn feast in Stallarholmen. They weather was lovely and it was so fun to meet all again. Especially a day like this when we can meet without "working" at the same time (like under our big festival) it gives you a chance to actually talk with each other in a different way :) Very nice! Beside test of strength the Vikings loved to play different plays where all present could join, no matter of age, and so did we ......

| | |
| --- | --- |
| | |

First play: 2 long boards was placed to the lawn against each other. Team where chosen out and everyone on each team should place them self on the board. When 19 Vikings on each board where standing it was full and the play could begin! Without talking to each other (signs by hand allowed) and without leaving the board, stepping on the grass, they should change places so that youngest stood first and oldest last on the board!!! God we laugh! And a lot of interesting solutions was shown. I do not know if the once on the boards or we taken photos where laughing the most ....... ;) Not so easy to be done with fully winter outfit included all jewelries and weapons that comes along with the it and not everybody manage to keep total balance .......

Second play: The boards where moved and the team where placed behind the short end of them. Two and two, crooked by arms with their backs towards each other they should get as fastest they could around the board. Quickest team won and the waiting pair to start, was not allowed to do so until the pair before was back on place again. The strongest one just lifted up the partner on the back and run around the board, other pair jumped around (demands cooperation and synchronization for sure) and the one loosing control was dragged around by the partner or had to run backwards!!!

After the games, while waiting for the dinner to be served, we sat by the fire and talked about the last festival, next years upcoming festival when we will celebrate 10th anniversary and off course embroidery, tablet waiving etc.

I am going to be an aunt and now it shows clearly :) So excited and Zara is rather big already considering the baby is due in beginning of February next year.

When the food was ready we went inside to take place at the long tables. Speech where hold, a shield was given from the "Housemen" (a fighter association that my brother is in charge of) to the chairman of our Viking association, to be put up on the wall in our new hall. It is a costume to make sure you are always welcome to take place at the dinner table when visiting.

The food where outstanding and for those that likes (I am not one of them) they had mead to go with it. The toasting took place high and low and it where a lot of jokes telling, poems singing and laughter in the hall. After dinner there was an fire-show outside but after the jester had jumped over my mother! That was something! We did not think he actually would do it because every time it went for the run he changed his mind to come up with something that would make it harder. Finally he was certified with the complicated task he had come up with. My mother sat at the floor holding two lighted fire-sticks in cross in front of her, beside her my brother is standing with a sword holding it into the fire and attached to it is an apple (one that almost got grilled and the sword started to glow because of the fire!) The jester said he would take the apple, by mouth, when jumping over. He went for the run. Note the low space up to the roof. Off course he made it! He flow over and had the hot apple in his mouth landing!

Think the time was about 5 o'clock in the next morning before we went to bed. Happy, pleased and with a very nice feeling inside.

2011-10-02 New month and it is with joy I start this month because of happy news to tell. On Friday we packed the car and went to Tarja with family (kennel Turning Leaf's) in Älvkarleby. A quick stop on they way in Örebro where we bought winter boots to Angelica and where we lucky to get the last pair in her size. Gosh!

At Tarjas place we had coffee before Tarja and I went for a long walk with Boyo and her Mille. The weather was lovely and we walked down to the river where they had open two gates and it was just great to see all the water rush by with a power beyond anything else. Later we had a lovely dinner with good wine and talked about life in general. After we had put the children into bed we looked up the best route for tomorrows driving and while the men stayed up to watch a movie, talk and drink "vitamins" Tarja and I went to bed.

We went up early on Saturday to have breakfast and to pack the car to go to Gävle Working club for today's show. The special for today was that the owner of Ozzy had put him up not knowing we where coming too and the looks of their faces when they spotted me and Cassie where outstanding! (lol). Ozzy got BOB puppy, Brizna was "rewarded" with VG and Inja had to settle with that too. The BOB for today went to Runar and it was with big joy I had the chance to get to know both him and his owner during the day. Very nice!

Tarja had little Anna with her, a female she kept from her latest litter, and a brother of Anna came too. He got the BOS and Anna got the BOB puppy for the day!

Thank God we did not listen to Tarja when she did think it was no use to stay for the BIS finals - Off course we should stay! Both Ozzy and Anna where to be in them.

Ozzy had to settle with the BOB today but Anna, little girl, won the whole puppy BIS final!!! Jihaaa! I screamed and jumped up side down. Congratulations Tarja! Beside I got a chance to enjoy an imported Boxer female (from white Russia), whom absolutely flown over the grass moving in the ring! Outstanding! The hair stood up on my arms and I could feel the tears in my eyes out of admiration. She ended up at BIS-2 total and I had given her the first place off course. Well, the Longhaired Collie that got the first place was not bad at all, but how often do you se a Boxer ala crème? Not every day - in fact! Happy and satisfied over the day we hugged every one we know and went back to Tarjas place for a new super dinner.

Sunday started with that Cathrine came over with clothes her girl has grow out of to see if any of my girls could have them. Thank you so much! Then we packed the car and started our long way back home. A sms came from Annelie and Anouk. They had been to the small mentally-test today MH (had no idea they should...) and he did show himself from his absolute best side. Open and friendly and no fear of gunfire! WOW! Done with grace! - VAJERT!

SEPTEMBER
2011-09-22 Our visitor where very nice. Dimma, total un plucked, looked like a sheep indeed and Boyo got very suspicious towards the "furry thing" that walked in the gate. hahahahaha. So much like her mother in the same age! WOW!

Rex tried to charm himself in with the ears almost in cross over the head but that did not impress Dimma at all. Resolute she sat down and shown her teeth! Well, Rex said as the gentleman he is, no problem honey - I´ll back of over here and it will give you a better view from a bit of distance!!! How he tried to charm her! Not easy when it smell of bitch in heat, but wrong female! (Brizna is the one in heat).

Maria came with Alpha and we had lunch together.

Later we had dinner, talked about dogs, lines, politics (because of the election in Denmark) plans, training and A LOT more. A shame we had to go to bed early because our guests had to drive back home, earlier than the roster goes up, next morning. Danni became very found of our dogs and Rex in particular and that was the meaning of the visit in the first place - to take a good look at him. Tank you, Danni and Laila, for the nice, but short, visit and we will se each other again in January/February 2012 when Rex will have a new chance to impress on Dimma, whom then will be in heat. =)))

2011-09-16 .... here I am sitting with the new number of Belgaren in my hand. A cup of coffee and the paper as a short brake from all preparations; food, cleaning the house, beds for the guests in order etc. So much looking forward to this visit. Danni (Vajert Dimma´s new owner) and her daughter, Laila, are coming and Dimma as well!

Have not seen Dimma since she was 8 weeks and left for her home in Germany. More about the visit after the weekend - now time to get started with the preparations again. =)

2011-09-05 Vajert Akira got a newt Exl. on EUW-2012 Super congrats ;)

2011-09-03 Today we got two nice massages. First a sms from Akiras owner about that she, 1st of September, got Exl., CAC and BOB at the CAC-show on EDS-Show 2011! WOW Congratulation. Now we are waiting and crossing fingers for Sunday when the title-show European dog 2011 is. Good luck!

Second massage came from Susanne that Inja, on today's in official show in Stockholm, got HP, BOB vet, BOB total and BIG1! Still going strong! Congratulation!

2011-09-01 Today we went to the archery club in Motala and Cassandra did a marvelous shooting of 60 arrows! She is getting better and better at the sport =) Good girl.
The Swedish race paper "Belgaren" number 3 is up for correction reading and when that is done it will go for printing. Lovely!

AUGUST
2011-08-29 Home again after the trip this weekend and had hoped that I now could say that finally Brizna have done her big mentally-test (MT)..... but, but.... When we, at last, had a start number (6th time of try!!!) I get some kind of flue! No idea to go there then..... darn.... well, well now it is "just" to start over looking for an other test to try to get into.

2011-08-21 This weekend has been an Alpha - weekend again :)) Yesterday Maria and Alpha made the third and last part in the try-out test for military-dog and this time they even tested the condition of the owner. As we all know Maria is walking a mile now and then (read every week) just for the fun of it so for her the condition-test where a ...... vacation... Alpha did her part and made it with great result, so now the education begins to be a military-dog. We say good luck and congratulations or rather we say: VAJERT!!!

Toady she filled her "quota" with a new Exl, CK and ended up as 3rd best female at Swedish Winner show 2011 today. Handler this time was "grandma" - Anne Engström. Nice work and congratulations!

2011-08-14 Alpha showed her "pawls" even today and I had the opportunity to be there as a fan-club member. This time at the show in Askersund where she got Exl, CK and BOB - Congratulations from the screaming crowd (read breeder) outside the ring ;))) Back home I took some new photos of her and she played a lot with Boyo in the yard. Alpha do like the little fellow a lot :)

2011-08-13 Today Maria with Alpha called to tell us that they had made the second part/out of three in the try-out test for military-dog. =)) Jippie and congratulations!

2011-08-12 Stephanie had her 5th birthday today! We started the celebration with breakfast and gifts in bed - sparkling eyes was the response and a lot of Ah, my best thing ever, thank you, thank you =). After that she changed into the new clothing she got from Jey and went outside to play with the "stomper" and Boyo. ;) I do not know who had the most fun, but Stephanie laugh out laud when Boyo run of to get the ball. We made the cake and blow up the balloons ... well ... yes.. Göte blow them up and 4 of them went of in his face! ... ugh! .... I hate balloons.

I did some working with Brizna today and the obedience - especially the call in with stop/stay in middle of the distance towards me :) - is getting better and better... well I can not say that about healing and total turn, still a problem to solve for us. She and Rex got their time with the "stomper" too and you have to make sure they are at the side when stepping on it.... Do not want to have a ball way down the throats.... Brizna has figure out how this works and is trying to put back the ball into the whole herself, even though that dose not work for her she steps on the "stomper"......hm... fly ball - can that be something for her?......

2011-08-09 Cassandra has been in swimming school for two weeks and during this weeks taken 6 swimming marks! WOW! great done girl! Sorry to say I missed the last day because I then was on my way with the caravan to the Swedish Belgian Show (SBU) in Knivsta. At the graduation day they dived for candy and Cassie picked up 7 of them :)

At the same time I did my best to helped with the preparations for the show in Knivsta. About 01:00--01:30 I stumbled in to the Caravan to get some sleep and it was not hard to fell into sleep I tell you!

The day after was the debut day for Ozzys in the show ring but before that I did my yearly looooop ...... yes, sigh, Brizna spotted a nice girl whom she loves all over the world and took a big jump in love towards her...... eh... nope... she has never meet her before but that did not matter obviously and I had my back in the direction talking to friends and had no chance when she took the jump (Erika is the name of the girl and yes, she is lovely) So it happen like it happen and do not think I let the leach go.... oh no!!! At least I did not end up inside the ring, like last year, but I did hit the ground with a smash ...... ouch.....

Ozzy vas the first to enter the ring and it is very nice to put up a dog that simply walks up to the judge saying: Ah hey, Nice to have you here and I can lean towards your legs! already as a puppy. Had to hold back the laughter when I saw the judge surprised face when he looked for the teeth...... changing teeth.... so there where not so many to look at so to speak ;) the judge open the mouth 3 times - just incase. Ozzy has a great flue in his movements and got a very nice critic, HP; BOB puppy and then BIS 3 puppy total. Congratulations to the owners from us :) When it was Brizna turn she got CK and ended up as 4th best female. Not so bad even though it did not feel it was total right because one female there was not in the best shape this day and should have had a lower placement. On the other hand, Humlans Wicked Wilma (res. for spelling) that went against Inja (both over 10 years of age), was for sure. Lovely movements and what a fur!!! WOW- I shivered at ringside.

The next day it was a show in Vallentuna (there Inja won over the female that was not in the best of shape and went home with both BOB veteran and BOB total - Congratulations from us) and when everybody packed up to go there I decided not to stay behind either. Hooked on the caravan to the car and drown home to mothers place. On Sunday I turned back home again. In summary - a good weekend even though SBU never will be what is once was......

2011-08-01 As I wrote in end of July the thought to visit Ozzys and his family, despite the fact that the competition for Angelica was canceled, anyway where the choice we made. We got 3 lovely days with tasty food, nice conversations, walk with the dogs and just to be. We also went to their archery-club in Ockelbo to practice at the outdoor track. We also went to a garden where students had made small gardens out of different themes. What a fantasy and very nice done with all the different flowers, vegetables, stones etc. Home at Ozzys place the girls played in the playhouse (the photo) or where bathing in the pool, jumping on the trampoline ; P Every evening when it was time for bed the fell a sleep instantly :) Thank you so much for a lovely weekend.
JULY
2011-07-26 Just because I have not updated the blog so often does not mean nothing is happening here....... on the contrary! I do not have the time because every evening I am exhausted and the thought is ..... will do it tomorrow.... every day! Now I have some time left and are not to tired either, so better do it right away! =)

The 18th of July we packed everything needed into the caravan "Öggisen" and the 19th we landed at the camping place in Ånnaboda. =) 4 days of camping before we have to get back home. When we got there our friend Tarja with family and dogs where already there waiting for us. The day after Karin and Håkan with dogs arrived. They for the upcoming Collie SM at Örebro Working Club. We hade a great time! Good food, coffee with apple-pie and very nice evening talking about everything on earth (well ok, mostly about dogs, breeding, training, different caravans, camping etc.) I would have liked (read needed) to stay more days and is thinking of booking something up in August - but wonder if I then shall go by my own.... well the dogs will come with me off course!

At first O´ Boy could not go into the caravan.... so we lifted him inside and then he could not go out of it!!! hahahahahaha
Put his food into the bowl and went out to give it to him in the fore tent ..... a bit of a problem occurred for him, but he went down the to dangerous steps from the caravan and ate everything up directly. AFTER that it was no problem go in or out of the caravan anymore ..... hahahaha so typical puppies and so TYPICAL Laekenois. He is very easy to have along. Is laying on the blanket in the caravan or under the table in the fore tent. Walks out of the fore tent to do his toilet and back in for some more resting. Acting like he has never done anything else than camping in his life..... well after he dared to go in and out of the caravan that is..... Rex "climbed" up in strangers knees every time he got the chance and poor Brizna had her head full of not knowing total how to act..... she wanted to meat all strangers with kisses but also to protect the puppy.... she chosen, every time, the kissing ;) and I think that is good even for Boyo because he is not that found of strangers yet - both mum and dad will show him the way.

Angelica has been competing in archery, Jr SM in Eskilstuna (60 meter) - did not go as hoped for and she ended up on 15e place (of 18 started)! However the pick up she did the second round where amazing - so impressive - over 100 points more than in the first round!
Then she competed in SM in Hallsberg this weekend and got to the final shooting (as hoped and planed for) but was taken out with only 3 points...... well well.... that happens ... ended up at 17th place. But considering it is only the third time she shoots at 70 meters (this competition included) and actually is to young for the woman-class (21-class), this event where more meant as an training for the coming year and it paid of you might say because she won back the start fee in the start number lottery!!! As said.....only a exercise for upcoming years competitions...... This was the last competition in the shirt of the gymnasium. Now, when it is clear that she will start at the university of Linné in Växjö and will live there for at least three years, she will train and compete for Växjö AIS. Three shooters from that club where at SM and they had Angelicas new competition shirt with them, to give it to her!!!

Speaking of winning - I won a large hanging pot with strawberry plants, on one of mine lottery cards. =)

Cassandra has, since a while back, start up archery too. She is very good and it is fun to observe the development she has done just during July. She is practicing at 20 meter outside so when the indoor season begins in September it will become much easier when the target is on 12 meter. She has also started swimming school and if she could get a bit more of courage, she can certainly swim without help. I am sure that two weeks of swimming school will do the trick ;)

The closest plan was that Angelica should compete next Sunday, 31 of July, and then for the new club. So she sent a mail to the organizers to ask them to change the club affiliation for her and got a reply back that the competition is canceled because it where to few participants. = ( That was not nice news to get and it does give us some problem.... She has booked train ticket to Gävle station where I am suppose to pick her up on Friday, but she did not book one she could rebook or change - this time either - leaves us with two choices. Book a new ticket to Hallsberg (lose the money on the other one) or for me to drive and pick her up anyway, and spend the ENTIRED weekend with Ozzy and his family - which I would not mind at all! Leans heavily towards the later ;)

2011-07-08 Yesterday the official reading result of Azkas x-ray was up at SKK:s pages. HD A/A and ED 0/0! Jiippiiee! That means that everyone, that has done x-ray within the A-litter so far, are free on both hips and elbows and that the total statistic for the kennel on HD and ED now are 90,9% free on HD and 90,7% free on ED! VAJERT!

2011-07-06 Lets se if I can give a small report over the weekends happening here.

We came with the caravan to the festival on Friday 1 of July abut lunchtime. After control that electricity and everything else worked as it should it was time for the big hug time to take place. Everyone we have not seen since last year need a big one =). Exhausted in arms and all warm inside I put up the last on the tablet waiving (now it is done to start waiving) before it was time to pick up Jey at the railway station in Strängnäs. Back to the festival we had coffee, lemonade and cake to celebrate that Jey had her 18th birthday the day before. We put all her things into the big tent where she will sleep among all the other Vikings that do not have their own Viking tents and started to change clothes into feast clothing for the evenings feast!

What a feast! Super tasty food, nice company at the table, good rhythmic music, high atmosphere and a lot of laughter. More hug time and outside the evening air was so warm it felt like a evening/night in Greece. Wonderful! The night became late and we did felt into sleep without any fairy tail this evening.

Next morning started with the chaos that the frying pan to the pancakes could not be found on the entire aria! It turned out it was at the place of the smith since last year. He took it last year to fix two side arrows that where broken and had totally forgotten about it. Luckily it was somebody home that could drive it down to the festival aria and while waiting for it we decided to start to do the batter for the pancakes. Chaos number two. The Urns had been used during breakfast, the different flour sacks where placed in three different places and on the fourth place we finally found the honey. At the 5h we found the spatula, honey spoon and the spoon to the cranberries jam. What a mess! Well, finally the batter was made and then we just had to wait for the frying pan to arrive. Ozzy with family came and we had taken a Viking dress with us for Ami. She dressed up and then we buckled up Angelicas first competitionbow for Ami to try out. She was very good and archery is something she wants to start with. =) Nice! A new shooter to Gävle archery club in other words ;) Ozzy behaved like world wide rigged! I am so proud over his behavior and the work the family has done with him so far. Long after they had taken home peoples came and praised his manner and character =))

When we finally could start to fray the pancakes it quickly became a long queue and poor Jey almost started to panic because she has not frayed over open fire like this before. We swift places in a hurry! Sweltering sticky heat and the fire under the pan - I did not freeze anyway..... ;) In the afternoon the answer of why it was so oppressive hot weather came - Thor with his hammer went across the sky making thunder and lightening strike and we became a bit worried the rain would started and it did BUT on the other side of the lake!!! In the middle of the lake it divided up lightning, thunder and heavy rain fell over the other side while we stood on dry ground watching the spectacles. Super cool!!! Just before closing it became calmer with orders for pancakes so Jey could take over again and managed to fry and serve in time. Nice work done! In meantime I started to waive the tablets. Fun so many people stopped and watched what I was doing, asking questions about the technology, how to make different pattern, about the yearn etc.

After closing, and before washing the urns, I bought my dents =) Finally! there where the once I have been looking for and even if I wanted one other pattern (my mother got equal) I took them anyway - just in case. Washing up and then it was very nice with a big cup of coffee before the barbecue. Took the opportunity to send Angelica a sms to ask about the basic-competition in Denmark. Got the answer she made it to tomorrow's final shootings! Jiippiiee - NOW anything can happen =)

The evening was nowhere near as nice as yesterday. It felt more like the once we are use to. A little raw and dump while being so close to the lake. Normal in other words ;) By the fireplace I found Cassie wrapped in to a big warm blanket singing along with the others! By then it was already dark outside =) She just LOVE to live Viking life!

The Sunday started with looking for both spatula and urns. This time much easier to find. Had to do new batter because we spent everything we had yesterday. Today's weather was cooler, cloudy but without rain or lightning for that matter. A good day for us that works beside open fires ;) We had full press from start and it did not take long until I needed to do a new urn with batter!!! :)) After closing I went to buy the oil lamp I wanted for years. Now I have one! Yes!

After washing everything up we started to give away goodbye-hugs to everyone that had packed up to go back home. I sent a new sms to Angelica to ask about the final-shootings. She made it to the bronze-final where she was eliminated by a girl from Finland. She ended up on 4th place total, and as best Swedish in her class!!! VAJERT!!! Super congrats girl ;)

After all cleaning up where done we went to mother to talk about the weekend and have some nice coffee. Late back to the caravan for a nights rest. Next morning we packed everything up and dropped Jey of at the railway station before our trip back home. We where back home in the afternoon - happy, tired, full of impressions from the weekend and a lot of new memories to keep in our harts! Next year it is 10th anniversary .......

To get into the house was not to fun..... entire kitchen floor was covered with powder of white with yellow crosses.... Brizna and O´ Boy probably wanted to make a "welcome home cake" of flour and cornflakes.... sigh. The white "glue" stuck in their beards revealed them really- well, and the kitchen floor off course..... Talk about wanting to turn in the door and leave again......
JUNE
2011-06-30 In our house the fuse for the kitchen aria is blown like popcorn!!! It took a while to find the cause of it - Vajert O ´Boy - yes he had chewed on the cord to the radio not so much that he has hurt himself - what we know of - but enough to cause the problem. The cord is removed and no fuse has gone after that. I put the hatch into the caravan - it was not so hard - and now it is fully packed with everything needed for the weekend at Stallarholmen. =)) Angelica has also packed her bags for her trip to Denmark tomorrow for the Nordic youth Mastership 2011. We will keep our fingers crossed ;)

Has also started the work for a new tablet waiving, but have to do the rest at the festival.

On our way to the archery practice in Motala today I got a phone call from Suzanne in Germany telling that Derrick (the father of the D-litter) has walked over the rainbow bridge - 11 years old. So sorry for the lost and it gets really scary knowing it might have been poison meet somebody true out in the wood that caused it ...... darn some peoples can be cruel! What is the reason for doing something like that? I do not understand how some think - IF they even think......

A much more joyful matter is the fact that our beloved daughter number 2 is turning 18 years old today! Congratulations Jey!!! Beside, Ozzys "little mum" is also having birthday today. Turning 7 years old. Congratulations also to you Ami :)

2011-06-26 Well, today Anouk went home... strange feeling I must say... he has been here for so long and now.....! The oldest girls went to Stockholm so in the evening it was strange quiet in the house.

The big day with big D is getting closer and closer.... soon we will got to the yearly event at Stallarholmen - the Viking festival! Tomorrow I will put in the hatch in the roof of the caravan =)

2011-06-25 Today I finished the second tablet waiving and the band Cassandra once started to waive. We had barbeque for dinner and coffee with strawberries with the neighbor. Everyone where a bit tired today..... just wonder why... lol ..... In the evening we had snacks and a nice movie night in front of the TV.

2011-06-24 Midsummer eve! Rain, cold and some sun now and then. The children of the neighbor came over and put Angelica into work. ALL of them wanted wreath of flowers on their heads, so they went of to pick the flowers :) and then Angelica stood almost the whole day wreathing. In mean time I prepared all the food for the day and evening and also the cake with strawberries for later.

When the children got their wreath of flowers on they danced around the Maypole.... or well... a rhododendron had "work" as the Maypole this year and went later of to pick 7 flowers to have under the pillows during the night. In the evening we went over to the neighbor for barbecue and had our midsummer cake with us - a cake with its own history..... ;) We made a cake with digestive in bottom, bananas and Amaretto cream and then a lots of strawberries on top. Angelica did not read properly how long before serving you have to take it out of the freezer, so instead of 30-60 minutes (depending on how long it has been in the freezer) she said 3-6 hours!!! I thought something where strange when we walked over to the neighbors and the cake was "shivering" in the box...... When taken of the metal gauntlet the cake kind of float out and all started to yell about getting straws to "eat" it ..... Boy did we laugh .... well, well it was nothing wrong with the taste anyway ;)) We had a very nice time even though it was terrible cold outside.

2011-06-23 The preparations for midsummer celebration is carrying out within the home. At the same time our girls is going true their closets to remove clothing that is to small and put fitting ones in. We are also packing, washing, and doing tablet waiving..... why not when you have no time left for it ...... We are also fixing with the caravan to get ready for our first trip this year. The to Motala for practicing in archery.... se our days is flowing by in a hectic way!!! I so much LONG for go away with the caravan, believe me!

Yesterday we went to the veterinarian for health checkup on Anouk, whom finally is going home to Annelie. I will miss him a lot! The health checkup went well and the vet. love him dearly.

2011-06-19 Our caravan have now new wheels! As new again. =) Today we went up way to early to drive to Nyköping for Angelica to participate in archery competition of 1440-round. A terrible weather of rain made us a bit late because I could not drive as fast as allowed on the over wet roads - quite scary in some parts of the roads actually. The competition went well for Angelica as long it "just" rained heavily, but when the hard cold wind started to blow it was nothing to do anymore. She turned blue on her hands and lips and could not feel the bow hand at all!!! Can not remember that she has not gone true the whole competition before despite the weather, but now she had to stop before the end. However she was not the only one that gave in. Beside there where 15 (smart) shooters that never came to start in first place. We had our lunch in the car before we went back home again. The closer to home we got the better the weather turned and when we stepped out of the car the sun was shining!!!

Got the massages that Vajert Dimma got Exc, BOB, CACIB and the title: KBHV-2011 in Denmark yesterday! Congratulations from us :)

2011-06-15 Cassandra had her examination from grade two today. When we came out of church I was rather mad....... No national hymn!!! Shame! I do not know what the school was thinking and what is happening with Swedish traditions? Imagine the future athletics that can not sing along because they do NOT know our hymn!!! I do not know what to say..... grrrrr....

Later in afternoon we went to Motala for archery practice and it Cassie did great also today. She is so proud she can handle Angelicas first bow. Well it might be an archer out of Cassandra too in future :)

2011-06-13 Today Cassie came with us to Motala for archery practice. She did very good! Angelica got some tip and suddenly the arrows where close together and in the place she wanted them =) Looking good!

2011-06-12 Soon, very soon, it is time for the festival of the year at Stallarholmen =P

Off course I am speaking of the Viking festival 2011 that is happening at the 2nd and 3d of July. This year we will miss Angelica whom, the same weekend, will attend in Denmark at the Nordic Mastership in archery. We have to manage to keep fingers crossed at the same time the pancakes is made over open fire. Tricky, but with the tong in right place in mouth we will hopefully manage .... :-)

If you are in Sweden and would like to visit the festival a tip is to have bathing clouds with you because there are a nice beach beside the Viking aria and if the weather will be great it can be nice to take a "cool off" dip into the lake and melt all impressions from the day - or, why not, in middle of it. Eat, drink and travel backwards in time you can (and for sure will) do in the Viking village! How to get there is on the map below. Warmly Welcome =)

Some new photos where taken of Anouk and Raika today. I do not know what you think, but I think he is getting more and more beautiful each day and also more and more like his father in looks. We also trained some toy seek and like his mother he is not given up in first time. Great done and a lovely nose work!

Raika did some obedience and even though she has started her heat she was up for it - a bit to much actually... lol...... she is a joy to train I have to say - again!

Vajert Opal has been into a show this weekend in Frankfurt. Her very first show and the judge Marion Ten Cate liked her a lot and made her BOB puppy. Big congrats from us =))

2011-06-11 Today I have made pads to the dog beds and some new toys as well. I also took some new photos of O´ Boy and some on Stephanie.

O´ Boy did not believe his eyes when he got the new toy. It was a success I can say and he is caring it around where ever he goes. :P

Rest of the family went to the cousins in Stockholm today to celebrate both a confirmation and some graduations. Beside Angelica her cousins Ellinor, Magdalena and Marcus are also taken graduation this year. And cousin, Elvira, is having her confirmation. Angelicas bet friend, Hannah (founder of the company Corps eye) and my bet friend Tarja´s oldest son, Joni, are also graduating this year. I have probably forgot someone right now - sorry if that is the case - but think that the "closest" almost fills a graduation truck themselves .............

The guys in the pack is a bit "tagged" towards each other and I am a bit thoughtful about it and wonder why - except for the fact that Anouk now is older and Rex probably feels he has to tell "the youngster" not to forget whom the master of the house is. Today I think I got the answer and yes it has to do with males that now is older and the oldest ...... Raika has start her heat........

To do something a bit nicer I took away all wood part of the grill, grinded them down, and then left to the store to get paint and new screws. Had in mind a color of terracotta/orange but in a brighter tone. A bit of a light against all the black plate part. Am standing in the store looking at the color cards holding on to the wine-red one (yes, I LOVE wine-red) thinking I might change color a bit, after help from the seller, and go for a bright orange/gold one. It even got the name gold. I do not know what happen but the seller must have missed a color mixing up this one because, at home, when open it the color was...... skin (pink/apricot)!!! Excuse the language but fuck what an ugly color and because you can not turn it back when it is mixed (smart move of the store) I might as well use it. The more I am painting the mare I hate it.... why did I not take the wine-red one..... sough.... thinking if I shall go down to the basement and bring up the black color to paint over this ugly skin color.......

2011-06-09 Virgin-trip with the Öggisen today you might say. But without camping this time. The reason was the - vehicle examiner! And, like previous years, the caravan is in top shape and the gas system is super tight. YES! One of the veils must be sifted, but otherwise they found nothing to complain about. Now it is going to be interesting to see if the right light at the back will function the ret of the summer. It kind of live its own life. Every time I do the vehicle examination it function without problem, but after - you never know if it will.... nobody, that looked at it, can figure out why or where the problem might be located. This year Öggisen will have a new roof hatch over the toilet. Nice. I also want to swift the roof hatch over the middle section, but... well they are not cheep, I have to wait with that one. Some hose from the heat system will be new once this year anyway. We have had this caravan for almost 8 years now and nothing has been replaced over this years so I guess it is in mean time it will be done :P - The real virgin-trip for this year will be for midsummer celebration I hope.

2011-06-05 Today Mary called from an international show in Norway saying that Xena got CAC, BOB and CACIB! Thereby Xena became
Norwegian Show Champion AND
Danish Show Champion in one hit!!! VAJERT....... again!!!
We celebrated that with ice-cream.... or no.... we did not, because when we had the ice-cream celebration I did not know the good news yet, we actually had it for the fact that Brizna and her bothers became 4 years old today ;)

2011-06-04 Yesterday I had hoped that I and Brizna would have attend to the big mentally-test, but once again the lot eliminated her to attend... :( Now she will be 4 years old tomorrow and that is the upper limit age to attend on MT. Therefore I have asked for dispense for her to attend after 4 years old and is now crossing fingers they will give her that opportunity. Hopefully we will go the MT during the summer or autumn.

Much more joyful then was the messages that Maria and Alpha got Exl, BOB and CACIB today!!! Jihaa!!! Congratulations!

The girls and I went to Motala for Angelicas training. She got a lot of help with her technique from a shooter there. It looks like the final touch to it is coming along. One arrow disappeared in the earth somewhere behind the target. We could not find it and have to search for it next time again. However I did find one other arrow that was deep in the earth and believe the shooter that lost it will be happy finding it sitting in one of the targets! :) Back home we had barbecue in the hot summer evening. It is so nice the heat is still there late evening and half night. Love it! Raised a glass of wine in a toast for Alpha and Maria ;)

2011-06-02 Kristina came today to get Odin home =) We had a nice lunch and went true everything from timing to claw-cut. From top too toe in other words ;) Good luck both of you and do remember I am just a phone call away if there is anything you would like to ask about.

Maria sent a sms from the fooicial Belgian Show at Ivö saying that she and Alpha got a VG and that Susanne with Inja got BOB veteran and BOB honor veteran. Beside that she also got BIS4 vet and BIS3 honor vet!!! VAJERT! Congratulations to both of you!

Late in the afternoon Angelica and I we to Motala for training again. This time there were some shooters from the club there. What a reception we got!!!! Warmly, inviting and helpful - all of them. We felt so welcome, something we can not say have happen when we have visit other clubs. They spoke warmly about the club and wanted Angelica to join them and compete for them in the future. Now she got something to think about because the club in Växjö also want her to compete for them when she goes to the university there to study. Well, we se what decision she will make.

2011-06-01 Today Angelica and I went to Motalas outdoor aria for archery to se if they had any targets standing outside. WOW, what an aria they got!!! Angelica trained and I read a new book about mentally of dogs (as usual). After the training we did some grocery and went home to barbecue salmon - super tasty!
MAY
2011-05-31 I and Odin went to the veterinarian today for his re-checkup. He was total quiet in the car the whole way and he did not got sick either!?! ..... surprise to me..... the checkup went great and the veterinarian became very found of him and his way to be.

2011-05-30 Yesterday we carried everything out of the trailer and Göte left it of in Motala. Today Kristina with daughter came to meet O´ Boy and Odin. They felt in love with O´ Boy from the photos and where rather sure he would be their choice, but when they got here they total felt in love with Odin! Now it will be a re-checkup at the veterinarian and on Thursday they will bring him home to Skärblacka. =)

Now it is only O´ Boy left that needs his own family to "terrorize"..... oh no.....to love it should stand .... ;-)

2011-05-28 Up early in the morning again and before the other woke up I left to get the trailer for the move. When I got back the girls where still in their pajamas eating breakfast. After a coffee we started to load up the trailer. When we where done we took a last check-up and scrub the floor a last time before we closed the door for the last time. In the car, on our way back home, we talked about how Angelica felt over the fact she will never, except for perhaps visiting someone, return to Olofström. She said that it right now feels more like every summer before - a holiday - and that she will probably not get it until it is time to move to the university. We also talked a lot about the summer and upcoming competitions and it is when we talked about this I started to curse........ one condition to train and compete is that have your bow...... Yes, right! After 80 km we had to turn back because non of us remembered that the bow was still in the lockup at the archery aria!!! hahahahaha... well...... so it did happen that Angelica came back to Olofström quicker than any of us thought from the beginning. When the bow was with the other stuff in the trailer and the key back to the trainer we once again started our trip back home, but first to Alphas place to pick up O´ Boy. We where home by midnight and really exhausted.

2011-05-27 Up early in the morning for breakfast and then to start packing again. I cleaned the apartment hard and yet in a hurry for the move-out inspection. The inspection went very well, did not think either wise, and after we had lunch before we went to the hairdresser for Angelicas hair due. The evenings ball was with 3 dishes dinner. We just managed to enter the door before the heavy rain started. It pored down like someone empty buckets from the sky. Some is balls came between the rain too. Not so fun to dress up and make a nice hair due if the weather will be like this.........

I and the girls went to grocery store to buy us dinner for the evening. Back to the apartment to get the umbrella and then back to she how things where going for Angelica.

She was ready and had change into the dress as well when we got there. Suddenly it became much brighter and we all looked out. The rain had stopped and the sun was back!!! How about that?!!


Back to the apartment for makeup then to the archery aria to get some photos of her with the bow. Then back to the apartment for refreshment and to wait for her escort to arrive. (Just wonder how many km I did drive this days......)

Angelicas escort, Andre, to the ball came and after a few photos taken I and the girls went a head to the Hotel where the ball and dinner should take place. We had been warned that if you do not take a nice spot beside the lain you would not get a chance to take any photos or see the couples at all because of all the peoples that will be there. I ducked in under the barring with the girls close behind to get to the other side where I found a very nice spot to stand to take photos of the couples when they would came "out of the turn". I was not the only one finding that spot very good and soon it was crowded of people on both side of the barring on each side of the lain. Like yesterday the whole town had left their buildings to stand beside the road (lain in this case). The terrace, where the couples was suppose to "mingle" for everyone to have a second look at them, where right behind me on the other side of the stream. Close and yet far away and the feeling "to protect celebrities" from the crowd crossed me.

Threatening clouds started to torn up in the sky and it was so much I got a bit worried that the walk down the lain true the crowd of people would be a wet walk for the couples.

Couples after couples came down the lain and the flashes from the cameras exploded of light every time a new couples showed up Just like celebrities on their way to a party or première, the couples had to stop to get photographed by almost everyone in the audience (read paparazzi photographer - at least you felt like one ....) A parade of beautiful couples with the most fantastic creations of ball dresses and hair due could be seen. Angelica and Andre came as couple number four and shortly after they had gone in from the terrace the rain started heavy.

I felt sad for the girls that got their lovely dresses all soaked wet and beside the extra weight to carry up. Despite the rain the couples walked down the lain smiling, stopped whenever anyone asked (if anyone ask me I bet they wanted to run the quickest they could to get inside) in the same slow moves the couples before them walked, but they did not walk in rain. Some of them had umbrella, but the wind made the rain splash up and a small umbrella hardly protect a dress that is wide. The last 10 couples had luck because when they got out of their cars the rain had stopped and the sun started to shine again. The street of the lain was soak vet but at least they did not have to walk true poring rain.

I and the girls went back to the apartment for dinner and an evening in front of the TV. Way after midnight Angelica called to be picked up. When I got there the feeling of "last night with the friends" had grabbed her and the tears was rolling because of all God byes! Yet she felt very happy!

2011-05-26 It has not been easy to get a fully night of sleep so far at Borgen. One party after the other and the music is so laud you can barley hear your own thoughts. It is not so fun to hear all this drunk teenagers/athletics knowing they all have sign a contract saying all kind of drugs are forbidden at Borgen and as athletics they shall not use anyway. It is almost as sad as not find the principal responsible or the attendant either - they both should hear this live! .......

Anyway - today was the big day! GRADUATING DAY! Angelicas boyfriend Jimmy went with us and my mother and Jey came directly to church. First the graduating classes came in one by one singing the graduating song with a verity of quality in both singing and knowing the words - awesome when the classes stopped in the ally, before taken their places, lifting the hats in air and back to head in rhythm while "screaming" Hurray, Hurray, Hurray x 5-7 times in a road... then they sat down for next class to enter the church and to do the same procedure. A procedure that occurred now and then during the whole program. After all 186 (if I do not remember wrong) students taken place and the opening speech where done it was Angelicas turn to give the students speech! She got big ovations and where the students where suppose to laugh they did, and where the adults should laugh they did as well - a success in other words =). A lot of music, more speech and some stipendium where given out before it was time for the students to receive their grades hat took a very long time not so hard to understand thinking of the number of students and the fact that the teachers had to whisper something in the ear of each one when given the obligated hug. ;) When the all students got their grades it was time for the principal to held her closing-speech, yes the "famous" (out of tree). After that the classes left the same way they came in - one class by one and still with verity of the signing. Outside of the church a lot of photos was taken before the busses took the students back to school for something to eat and information in the classroom before the "kick-out"!

I, Jimmy, my mother, Jey, Cassandra and Stephanie went to the apartment to get something to eat and have some coffee. The we went to the camping place where mum and Jey should sleep to get the key to the room. After that we went to the school to wait on the small hill in front of the door of the "kick- out"! It was crowded of people and the atmosphere was very high. Student signs where ever you looked, teddy bears and other stuffed animals, flowers, whistles etc. Then the doors open and the students class by class ran out screaming and starting too look for their own sign!!! Angelica had it hard to find us first among all people..... hahahaha.... with all stuff around her neck we got a photo with her together with her bow-trainer, Håkan :))

After all students found their own relatives and friends we all went down to a meeting point on the other side of the school. There some musicians, a flag carrier and a police car was waiting to escort them on the obligated march true the town.

In rhythm of march music, samba rhythm or the graduating song all students walked true the town singing, screaming, cherishing and the roads where edged by peoples. They walked to the hay-carts decorated by leaves that was waiting for them to take them for a trip true the town several of times. To describe the "feeling" in town as a big carnival mode is almost an "understatement" I can say and both Cassandra and Stephanie just loved it!
When the sun decided to take a rest behind the clouds it became very cold in the hard wind. I , mum and the girls, and a lot of other peoples, that stood beside the road started to frees, but the students seemed not to feel anything or they did not care! ;-) Brrrrrr... When the first graduating class came to the first roundel the hill down from the school was still full of students marching! (Wonder if any of them had any voice left the day after) At the hay-cart they climb in the one with their class signs on and the entrées was closed behind the "cattle" and left of for several of laps true the town.

When they came back most of the students had blue lips! At least the body reacted on the cold...... We went to Angelicas apartment for her to get warmer clods on and then to next town to eat on a restaurant, Venezia. The food was great! Delicious and we had a very nice time there. We all agreed on that this day had been full of fantastic moments and we all got experience we late will forget. And Angelica was so pleased over everything that has been made for her to remember this day!

When it was time for the restaurant to close mother and Jey went to the camping and the rest of us back to the apartment, just to relive one other night with party on Borgen...... All happening during the day had made us tired enough to fell to sleep despite the loud music. About 3 o'clock I woke up with a start...... someone turned the music of and it became dead quiet.....

2011-05-24 On our (I, Cassandra and Stephanie) way down to Angelicas place in Olofström we dropped of O´ Boy at Alpha with family. He is going to be there during a couples of days while we celebrate the graduation of Angelica, pack everything up in the apartment and move her back home. Down with Angelica I had a meeting with the principal of the school. They got tree principals actually and the one I spooked to is in charge of the students that is in some athletic program and also in charge of the students apartments and their welfare during their time there. Some well chosen words was said because she has to do a better job in the future before something really bad happens. Again it had been a hard party going on at the complex of apartments (called Borgen) where the students are living and this time Angelicas door was total painted with marmalade, ketchup and other stuff that normally are much better of in the refrigerator. Beside - the one doing it had been standing on a balcony spitting (!!!) on everyone passing by under them and Angelica got hit - HOW mature is that? and the principal.... well she closes her eyes and takes "her students" (read cross-country runners - the sport she is doing herself) under her wings defending them as usual saying - they do not do that kind of stuff and beside they do not drink..... yeah, right!!! ...... grrrrr. Do your job and you just might get right about it some day !

A lot more of joy was the time in the aria of archery where the shooters where practicing while it rain heavily outside! Do hope that we will not have this kind of weather during the graduation day and the bal day. At Angelicas place we had dinner and then we packed her stuff the rest of the evening. Oh, btw her door was total cleaned of!!!

2011-05-23 The weekend have had super weather and Angelica, competed in a new 900 round, did new personal record and ended up at place 4! Congratulations girl!

The rest of the family where mostly out in the garden the whole days long in the nice weather keeping fingers crossed, relaxed, had barbecue for dinner and played with Odin and O´ Boy =) Yes, the others had their chare of playing off course and I wonder if females back up in age after having litters..... hahahaha Brizna was our biggest "puppy" when it came to playing this weekend.

Today the boys got their 12 weeks vaccine. none of them liked the car, but both loved the walk and the play in the forest. WOW how many exciting things there are in a forest. Did the last thing on the Magazine and sent it up for the correction readers. Packed for the trip down to Olofström where I will help Angelica to pack and move out. We will also celebrate the graduation. Con not believe 3 years has gone by al ready!

2011-05-20 Picked up the new roof hatch to our caravan. Now I just need some help to get it in place and the caravan will be as good as new again ...... Jey come home for the weekend and Angelica phoned telling the hairdresser made the stripes coloring just like she wanted them. =) Got some new photos of the boys doing everything they could to kill each other....

2011-05-19 Today I picked up the sign for the graduation and I am total pleased! Just as I wanted it and I do hope Angelica will like it as well. Went over to Selstore and bought a lot of moving boxes and a very nice lady phoned me out of interest of one of the boys that are left. We had a very nice conversation.

2011-05-16 Early, way to early for my taste, we went up for breakfast before leaving for the airport. Poor Oxana did not like the traveling by car and became very happy when she finally came out of it. The towels I brought with me came useful while she was total soak wet in front. All papers where done and she where laying at the table until it was time to enter the crate. After saying goodbye and best of luck mum and I went to Uppsala for some shopping. IKEA, Coop and Lindex where visit. On my way back home Göte phoned and told med the official result of Anouk's x-ray was in the mail - that fast (?!) - he got hips - A/A and elbows - 0/0 Jipiie!!! Now it is just the small mentally-test to enter and he is ready for the world ;-) The trip back home was from that point very easy to drive ;) during the night I got a massages telling Oxana was on the ground again and the crate looked nice despite the long trip.

2011-05-15 Today Oxana and I went to Stallarholmen. At my mothers place we had a nice dinner and the first rhubarbpie with vanilla sauce of the year. Yummy =) Oxana run like crazy at the backyard and helped us to plant the strawberryplants I had with me from our garden. Puppies are not good in gardening, if it does not comes to dig big wholes in it. Tomorrow we will go to the airport for her to take the long flight over the Atlantic sea.

2011-05-13 Got a tip about a company that do signs after instructions here in Askersund! Went there with the sign and my drawings and asked if they could do it like I wanted it. No problem they said! Yes, yes, yes! Sent the other back still irritated over the fact they did ignore my note or can not read.

2011-05-12 Today I had to hear the whole national anthem all the way to the veterinarian. The singing bird was Oxana going for her second check up before her trip home to USA on Monday. The check up went great and now she is ready for her flight ;-)

I have order a sign for Angelicas graduation. On my way back home I picked it up in the post and boy did I get disappointed or what!!! Before I order it I called the company asked if they could do the sign out of my instructions and that was no problem at all they told me - right! - now they had done one out of a ground-work and not at all after my drawings or anything. I called them and asked what happen and THEN they told me they never do signs after own instructions. I had then to ask if they could not read either because I had written, with big letters, they should not do any sign if they could not do it like I wanted it!!! Instead they should call me ....... well she was sorry about the mistake they done and said I could return it....Did she think I would not........?

2011-05-11 Today the O-litter is turning 10 weeks of age and we celebrated that with going to the veterinarian with Anouk! hahahha... no, nothing strange at all just his time to x-ray on hips and elbows and to get testicles- status and teeth -status written in his pedigree. The plate of the x-ray looked very nice! Now we have to wait for the official reeding from SKK.

Claw cut, weight, cleaning of ears and a wash up was waiting the litter ;) All have gain 1 kg in weight this week and I got the report that Ozzy has as well ;)

2011-05-10 The trip back home was much better than the one down. O´ Boy was just a little bit worried when we started then he remembered and felt to sleep. Back home I got the massage that Brizna did not get a start number at the big mentally-test in Jönköping after all! =( Not what I hoped to hear. Now it looks like it will be no big mentally-test for her because they have to start before they got 4 years of age and she will be the 5 of June...... crap .......

2011-05-08 Today Angelica, I and the little man off course, went to Karlshamn Archery club for the district mastership - competition in 900 round - outdoor. The sun was shining and the wind where hard from side now and then. I enjoyed the sun and Angelicas shooting while keeping thumbs crossed and an eye on O´ Boy.

He was laying in the shadow under the chair, mostly sleeping, the day long. We took some walks and every time when we got back he had some water, candy and went in under the chair again! I have to say he is an great example puppy! I am impressed.

Beside when we walks he is keeping heal position almost the whole walk. If it is to small space for him on left side he just change side and keeps the eye contact from that side instead! After done his toilet he comes fast back towards me and sits in front of my feet looking up to get candy .... eh... wait.... what is missing?... knowing the command for heal position again and the fist moment in obedience is done!! LOL WOW! Anyone needing a obedient dog for competition? Just call or mail - he is almost ready for it ;))))


This DM where, for Angelicas point of view, also a test (what shape she is in) for even think to start at NUM (Nordic Youth Mastership) that occur first weekend in July in Denmark this year. it looked really nice during the day and increased her personal best at 900 round with 99 points!!! and took the silver medal.... then you SHALL go to NUM or what do you think?

Beside, she got the silver medal with only 4 points up to the gold. And down to the bronze it was only 3 points. Talk about tight in the top of the lead.......

Congratulation girl! Silver in DM.... taste that for a while ;) and put you up for the NUM in Denmark right away! It is going to be tough, but WOW what a great experience for upcoming competitions in the future. WE, your family and friends, will be home and cross thumbs - count on it!

When the competition is going on a sms came from Maria with Alpha. It says they are at a national show in Skara and got excellent/CK and BOB =) WOW! Congratulations!

Really tired after the day and a liiiiiitle read in our faces because of the sun!!! we went home to get some dinner and to do some more packing. Tomorrow I will go back home again with half of Angelicas stuff in the car. The 26 of May Angelica will graduate and move back home until it is time to move to the town that has the university she has applied to. A lot to do this day and a lot to keep in mind.........

2011-05-07 On Friday I went down to Angelica in Olofström and had O´ Boy with me for socialization. Go by car is not a favorite thing if you ask him, but after short while he felt to sleep and slept almost the whole way. We did some stop on the way down and he was not happy every time he had to go into the car again.... Today they had a big market in the town and we went there. Crowdie with peoples, a lot of balloons - that went of - in the heat, children laughing and playing, laud music, choir singing and O´ Boy took everything like he had done it before. Lay down at my feet if we stood still for awhile, healed when we walked and sat down as soon as I stopped!!! Not that interested to "get pet" by everyone we meet, but not afraid of anything that happen around him. Good boy :)

In the evening we had our dinner at the balcony in the sun! What a lovely day this has been!

2011-05-05 Now it is really empty! Both Opal and Omar have left towards their new homes and they have almost equal long way, but in total different direction. Omar up to north of Sweden and Opal south to Germany. This lovely photo came on the mail and is taken on the way down to Germany. Photographer is one of the owner. Alexandra (Kennel of Galdra´s mind). Thank you for the photo ;-)

The 3 that is still here, Oxana (going the 16th), Odin and O´ Boy, have got a new task and that is to find the new constellation within the puppy-pack! The once that guessed that Oxana got the leadership scored fully ;)

2011-05-04 Now the litter has turned 9 weeks of age. And today Alexandra and Gaby will arrive from Germany to bring Opal home. Speaking of Opal, I just have to say she is looking so cute with the ears "flying" on her head... hahahaha... it will not be long now until she has them both up. We can also se that Omar´s ears are getting lighter and lighter and sometimes when he concentrate he has one up ;) His owner will also pick him up today.

I have received a lot of very nice photos of Ozzy already. They will come up when I got some spare time. However I would like to say THANK YOU to the owner for sending them.

Odin 9 weeks - for sale

O´ Boy 9 weeks - for sale

Omar 9 weeks

Oxana 9 veckor

Opal 9 weeks

2011-05-03 Eating growing, eating growing.... You can tell there are one "missing" in the litter. A interesting observation we made is that before when they could play two and two they did it often. Now when one is over when the others couples up to play, it is a bit strange. After just a few days they have coped with the situation and are playing more all together. If the litter is uneven from the beginning they do not react the same when someone is leaving.

2011-05-01 Ok, so now we are in the big spring month. The weekend has been full of happenings, as usual. We start with the fact that Maria and Alpha did the small mentally-test (MH) and Alpha did it with grace! Done with no fear of gunfire. Congratulation and.... Vajert girls!

We went to look at a house for rent and liked it a lot. But once again we had to experience that an other family got it. We where the landlords second choice non help to us is it?

Some nice sms came from the owner of Ozzy during the day. Everything is great and they like each other a lot. Ozzy is showing himself from his absolutely best side. Good boy! =)

Today the owner of this house had a family here looking at it. A nice couple that was after a summer-house. If they will buy it in the end I do not know yet.

Also all the preparation for Angelicas graduation in end of the month is going on. Her things in the apartment must be packed, cleaning for the inspection before moving out. Dress, shoes, hair done, poster etc...... To graduate seems to be "a company" when coming to preparations. Thank God I have "to do lists" laying everywhere ;-) The reception has to wait until we know where we live and from WHEN we do. No wonder I find it hard to sleep at nights .....
APRIL
2011-04-29 Today was the day for the first puppy to leave the nest. Frasse with family came for Ozzy. We had lovely weather and had our lunch in the garden. The puppies played outside until it was time for Ozzy to leave for his new home. I do feel a bit of sadness when they leave - can not help it. During the trip home I got nice sms from Frasse telling how things where going. Ozzy laid up side down in the car sleeping! Short stop for toilet and back to up side down when the car started to move again. No national anthem, no singing of complain - total quiet ;) Good boy! Warmly good luck to the family and do remember: the distance between us is not longer than a phone call, sms or a mail :)

2011-04-28 Yesterday the litter became 8 weeks of age and we celebrated that by going to the veterinarian for the health-exams and vaccinations. As usual the puppies tried there best to destroy the room ;) Ha ha ha ha.... they played around a lot, explored everything new and finally felt to sleep all over the floor. Now they got their health certificate, vaccinations and the one for export also their passport done. On our way there we expected a lot of singing - like the national anthem - but where we in for a surprise when they where almost total quiet the whole way! On our way back home none of them where heard from - they slept! The 8 weeks photos where taken before we left and what ever we tried with Ozzy did not look straight at the "lady with the big black eye" ..... lol...... weight, claw cut and cleaning of ears where also done before we left - and good we did because the claws are full of mud now when the puppies are outside all day long trying to change the lawn into some craterous aria. They also get some help from their "nuts" father. He likes to create groups for anyone to fall into also.....

Males - 8 weeks old. Odin and O´ Boy - looking for owners.

Males - 8 weeks old. Ozzy and Omar - booked.

Females - 8 weeks old. Oxana and Opal - booked.

2011-04-26 To give you some "hint" of how it is to be a breeder we have taken photos of the indoor "box" to let you se how it changes depending of where the puppies are.....

| | |
| --- | --- |
| Puppies outside, box cleaned and smells nice. Ready for the "hooligans". | The puppies comes in and after only 2 hours it looks like this!!! Just to start all over again for the night. |
| In the mornings when you step up, you encounter this and the smell can not be described in words.... Anyone that wants breakfast? | After cleaning up, the "box" once again is ready for the puppies that have been out the whole day. This is how it is day after day ;-)) |
| | |
| Odin, O´ Boy and Opal | O´ Boy fighting with a chain |
| Omar is playing with a plate-bucket. | Oxana is trying to move the pool |
| WOW! A lot of toys ..... Ozzy, Odin and Omar found the girls sand toys. | Here is some brand new stuff to try out! Oxana and O´ Boy are steeling the girls buckets. |
| Ozzy drinking out of the pool | There is room for two... almost |

2011-04-24 The Easter holiday has been a quiet family gathering. The weather have been wonderful so the puppies have been out the whole days. Angelica found the fence we use to have as a big "box" outside, the once Göte had no idea where they gone.... Anyhow, now they got a big "box" outside and they also tried bathing in the small boat-pool during the weekend. Opal liked it the most! =) A bit wet first but then very nice indeed. The girls painted eggs and we hang them up in the apple tree. Lovely and kind of surrealistic! We had lunch outside and had barbecue in the evenings.


2011-04-21 Today Maria and Alpha came for a visit and Anouk became crazy of joy. The youngsters played around in the yard not knowing the puppies where under the stairs sleeping. When the small once started to wake up and came forward Alpha had enough - terrible creatures all over the place - even though a bit exciting. Anouk however became very happy and played gentle with them. Thank you so much Maria for the visit, chat and coffee time and sorry for the "visitation" when you where about to leave while missing O´ Boy among the puppies. hm..... wonder how he ended up under your sweatshirt... hahahahahaha..... ;-)

2011-04-20 This day has been a hectic day. Booked time for the vet. checkup next week. Gone true all mails and letters that did come during our days in Stockholm. Today the puppies turned 7 weeks so we have also taken new photos of them. As the weather was very nice we did it outside and I had help from Angelica putting them up.

They also played a lot off course and we had barbecue for dinner for the first time this year!

The males - 7 weeks old. Two spoken for.

Ozzy - black male - Spoken for

Omar - Yellow male - Spoken for

Odin - Blue male - available

O´ Boy - Orange male - available

The females - 7 weeks old. Both spoken for.

Oxana - Red female - Export to USA

Opal - white female - Export to Germany

2011-04-19 Now we are back home again and it was very nice that my mother had the dinner ready for us when we came - Thank you mom :)

The days in Stockholm have been very interesting and Anouk got a big portion of socialization and environment training I have to say. All the cars, all dogs, new smells, sounds all the time (never quiet in a big city) and by mistake we ended up in middle of a big crowd of football supporters! They sang, where very laud and suddenly they dropped a bomb that made a huge smoke cloud in front of us. Anouk waved his tail and did not react at all over the bomb! WOW what a guy ;)

In the evening we drove to my sister for dinner and I went to Tyresö working club where Ann with grandpa where waiting. Finally Anouk got a chance to play with dogs he met ...... lol ..... Well, Raffe was not in a play mode but Ann's female was and run a lot with Anouk.

2011-04-16 Today my mother came to be here a couples of days taken care of Stephanie and the puppies while the rest of the family is in Stockholm on education.

During the weekend we had lunch outside and spent most of the time with puppies and the other dogs in the garden.

We have had a lot of laughs over the fun and crazy situations the puppies is ending up in when playing around.

2011-04-14 Today the puppies where outside with their father. Poor Rex hade to stand up for close inspection from his offspring's :) Ozzy was the most interested because he found out that Rex had two balls of his own!

The puppies also got a some fighting time with the skin. Boy they did fought and shook it hard. No problem with the fighting spirit with in this litter!!!

2011-04-13 Today the puppies became 6 weeks old and well... what shall I say about this part of taken nice photos "a´ la portrait" - it is not fun for either the puppies or me. they want to play, wrestle, bite, run, eat what ever they can find so when you take them up for head photos the ears, that normally are very nice placed, will stand 10 over 10.... or thinking of it ... 15-20 over 8 in fact.... no, that will not due at all instead it will be nature taken photos this time ;)

I just love the way the puppies are developing and always move forward to new adventures, even though the skin on my arms now days looks like after a landing in a bush with thorns. To clean out the box can be quite dangerous when the small once are sleeping so sweet, and it turns out they are NOT sleeping as hard as you might thing (hope for) ... No, but they are not showing anything until you are on your knees bending over to clean the floor as quietly as you can.... the attacks are a fact and after a lot of sharp bites from sharp teeth you have to flee the box rescuing yourself and the cleaningtools you hade with you inside. The alligators - oh sorry - the puppies are close behind....... hahahahaha.

The males - 6 weeks old. Two spoken for.

Ozzy - Black male - Spoken for

Omar - Yellow male - Spoken for

Odin - Blue male - Not spoken for

O´ Boy - Orange male - Not spoken for




Te females - 6 weeks old. Both spoken for.

Oxana - Red female - Export to USA

Opal - White female - Export to Germany

2011-04-11 Today we had the nicest spring weather so far. The puppies where out most of they day. They slept under the stairs while I sat in the sun having a cup of coffee. Very nice indeed! After some more play the food where served outside for the first time. Yummy!


2011-04-09 Today we had Claus with Family here. The weather where absolutely great so we spent most of the time out doors - also had coffee outside - They felt for Ozzy and that was in fact the puppy they first liked from the photos and that feeling stayed when they met him. We says thank you for a very nice day =) In the afternoon Carina came to visit and Rex went overjoyed! He does not love her.... he ADORES her!!! He even tried to get into her car when she had to drive back home. Carina is breeding Ozzie and is expecting puppies around Easter - kind of sad this time, because she felt in love with O´ Boy and can not take him while having enough dogs at home! She have had Laekenois before and love to have one again. Well maybe next time then ;)

2011-04-08 Today the wind was a little bit less, still hard but not as yesterday. We took the puppies out and they thought the wind was a strange phenomena. Some of them had it hard to run in the wind - blowing over side - up again and for a new try.

Opal even tried to attack the wind back! O´ Boy has now both ears standing and Oxana got one up. To cute! Omar is getting total crazy outside. Sneaking, crawling, doing play invites towards us, running, climbing on/over everything he can find =) It is so nice to se them all in action!

2011-04-07 Today we had heavy storm here. Even I, tall and skinny like a pole, had major problem walking forward in the wind. I almost where blown to the grown a couples of times. - THEN it is windy!!!

The biggest "puppy" within the litter must be Brizna ;-) As soon as we put in new toys she is there to try the out - one by one. Like Qinza did with hers, Brizna is playing a lot with the puppies. Not always to fun if you ask the puppies because Briz is a bit hard (wild I might say) and if the small once got to close when she is shaking a toy they might get hit by it. Here Opal is "biting" Briz. :)

2011-04-06 Today the litter became 5 weeks of age. New deworming and it not tasty this time either, if you ask them :) They had gain weight - a great deal - and are now looking like small pups in cubic ......

Because of terrible family matter, the family that had spoken for Opal where now forced to redraw. Therefore she can be spoken for again ;) She is very tough with an extremely good body control, so I would say that agility or as a rescue dog (as example) will suit her great in future =)

The photos this time became as they did because the puppies where sleeping when we took the weight - easier to get them still long enough - and they had not woken up totally yet when taken the photos..... cute.... hahahaha

Males 5 weeks old: 2 are spoken for.

Ozzy - Black male

Odin - Blue male

Omar - Yellow male

O´ Boy - Orange male

Females 5 weeks old: 1 spoken for.

Oxana - Red female - Export to USA

Opal - White female

O´ Boy and Opal in visitors lap =)


Omar trying the water in the bowl.

O´ Boy with both ears up ;)


Oxana playing with the ball :)


2011-04-04 TODAY we had sun and it was very nice outside! Yes, the puppies explored outside for the first time and it did not take long before the were everywhere!!! =)

First out of the house was Oxana - off course - she more or less rumble out of the doorstep and started to exam everything outside right away. Opal was not long behind. We carried them all down the stairs. I do not want them to run the stairs yet because it is metal and got open spaces and I am afraid they will hurt their legs, so therefore we carries them until they are older.

A new world open - all had to be tasted, licked on, troughed with, crawl under or climb over. The soil is still cold and you could se that when the puppies put the pawls on it just to lift one up right away. But in a short while they run over it like they never done anything else :)

2011-04-03 The weekend did not have the weather that we hoped for. No, some rain with snow and our lawn that already is like a mud yard did not get better of the by this. That means we did not take the litter out as planed. Instead they, one by one, where taken out to explore unknown room. Easy to se whom is mature for it and whom that needs longer time. However the curiosity took over in time and now all are sleeping like babies :)

About the weather they say it will be better on Wednesday - the litters 5 weeks day. Keeping fingers crossed for that. 5v dag.

2011-04-01 Today we got the first visit from "strangers". The family that looked at Opal and also my good friend Sussie with her boyfriend Ricky. We had a very nice time and the puppies seemed to think so too. Brizna had a lot of kisses to give and she did - after cleaning up the puppies "toilet" - urk .......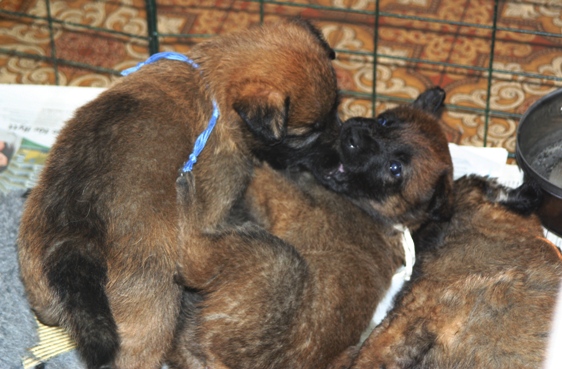 MARCH
2011-03-30 Half way!!! Today the litter became 4 weeks old. Their personality shows more and more and hours flies by when studying them. The puppies are still a bit "clumsy" therefore it happens they hurt themselves or an other puppy - especially when they grab each other with those sharp teeth and shake! Now you can observe how they cope with that part, how fast they forgot it hurt but also the reaction when a sibling scream. Very interesting to follow. We can already se whom that prefers cross meat, gruel or smashed puppy food and whom that still think mums milk still is the best ;-) If the weather stays and some sun and a few more plus degrees, as promised, will be the pack will meet the nature for the first time this weekend.... exciting!

Also exciting is the part of getting nice photos of the litter - today we laugh our heads of, good for the stomach muzzles I have been told, when trying to get some stand up photos. After that we took new weight and cut clews. Well, this is how it turned out this time and as my husband said: They are puppies not models... ;)

Males 4 weeks old: 2 are spoken for.

Ozzy - Black male

Odin - Blue male

Omar - Yellow male

O´ Boy - Orange male

Females 4 weeks old: Both spoken for.

Oxana - Red female

Opal - White female

2011-03-29 As I said, the development will go fast from now on! The pups had their first meal of gruel today - well swimming around in it more like it - and it seemed as if they liked it even if most of it where sucked up by the pores. Now when they play you can HEAR the teeth are true.... Suddenly you hear a small scream from a puppy and the one is stuck in the mouth of one of the siblings.

Jing and Jang - well, we call them that from time to time because it is Ozzy (black) and Opal (white) we are talking about - seems to get drawn towards each other when it is time to play. The fun part is that despite Ozzy is the biggest in the litter and Opal is the smallest he have no chance at all if she decide to bend him over! On the photo it is Omar getting his from her and he is not a small boy either ... tuff girl - that one ;-)

2011-03-25 Today Jey came home for the weekend and that was appreciated by Brizna. "Crazy-girl" wanted to lay in Jeys lap when given food to the puppies. It became very crowdie in the box. Jey thought the puppies had grown a lot and yes, you might say that considering last time she saw them where at their birth!!!

We bought some small soft toys for the litter today and that was highly appreciated ..... by Brizna..... ;-) The puppies have done several of exploring-rounds outside the box during the weekend and to their joy they found Stephanies shoes! Why do we buy small soft toys?

Sunday and the litter has been moved to the kitchen. Not appreciated by Brizna - now she can not come and leave as she wish anymore because we have to let her in to the nest (to high to jump) when it is time to give food to the pups and afterwards, when they are done, she has to stay with them for a while. She will also be with them the whole night .... and she prefers to lay in our laps up-side-down when we watching TV.... lol .... well, now when they have moved into the kitchen she seems to think they are old enough to play with - tones the puppies are not up for just yet. I say, just wait.... the development will be very fast from now and in a few days up to a week the mum will be the one running from the battlefield......

2011-03-24 Home again after the trip down to Angelica in Olofström to help her put up the Viking exhibit at the library. Photos from the exhibit, and from her project, will come up at the Viking album as soon I have time for it. Before I went down I took some photos of the clods and Viking stuff borrowed from my brother Nibbe, his girlfriend Zahra, mother and, off course, my own and the girls clods for this show. This photos will also get into the album - any day ..... ;-)

Sad I could not stay a few days more, that would had been nice.

The litter turned 3 weeks Yesterday and we celebrated it with deworming - NO it was not popular at all!!! New weight where also taken - and they have gain nicely - new photos where also taken off course =)

To morrow I´m going to buy some soft toys for the pack!

Males 3 weeks old: 2 are spoken for.

Ozzy - Black male




Odin - Blue male




Omar - Yellow male




O´ Boy - Orange male



Females 3 weeks old: Both spoken for.

Oxana - Red female




Opal - White female




Now we can feel that the teeth are coming true and the balance is getting better and better for each day that passes by. Brizna is standing up when given food to the puppies - not every time but almost. She seems to think they are big enough to "hang"/"stand on toes" to get food ....... crazy girl ..... they have also started to leave the box and when they do Brizna seems to think they are big enough to play with .... yeha right.... well, at least she is careful so no one have gotten scared or hurt . ... good mum ;-)

2011-03-21 Today the puppies got crossed meat (taste portion) for the first time - Jihaaa!!! - that where very popular - and we discovered that we have one or two singing birds among them, when they understood it would not be more than taste samples ....lol ..... Brizna came to our rescue and gave them a big meal of breast milk ;) Right now everything must be tested by mouth and they are awake more and more for each day that passes by! Attacks, growling and small sounds of barking are now the new repertoire :)

2011-03-17 The name is not so easy, if you ask me. Well to find name is not so hard - got 17 of each male/female this time - but to decide whom to give what name is harder. If you ask Stephanie (our youngest daughter) she says one of the female shall be named Stephanie, but that does not start on O..... ;) Anyhow today the litter got baptized ;)

Now the litter got their names:

Ozzy - Black male


Omar - Yellow male


Odin - Blue male


O´boy - Orange male


Oxana - Red female


Opal - White female


2011-03-16 Time are running - way to fast I think! Today the puppies turned 2 weeks of age and we celebrated it by taken new photos (read: at least tried to get nice photos), new weight (not so easy done anymore while they are tying to leave the scale...) and claw cut (sneaking up on them when they are sleeping or eating = no one notice I'm doing anything.....)
To take photos of the puppies is not that easy as people might think. They shall cooperate - thank you - to get the photos as good as possible. Now when they "run" more than they walk it is hard to make them lay still long enough to get a photo at all. Today they yellow and blue male plus the white female where best of being cooperative ..... at least a bit that is.... The others... well.... the red female turned the head away all the time, sticking her tong out or yawned big!!! Orange male where so tired and slept so deep he felt more dead than alive - just hanging in Götes hand - well at least he stayed put when we put him down ;) The black male run from the spot every time we put him down for photos of him laying .... and this is how it went on half the day - you do have to be patient when taken photos of the small charming once :-))


Males 2 weeks old: 2 are spoken for.
Black male
Yellow male

Blue male
Orange male

Females 2 weeks old: Both spoken for.
Red female

White female
Mum is a support in life!

A kiss for you ;)

More kisses!

Smile...

Triple sitting

Hugtime!


2011-03-14 Now when the puppies have open their eyes and seems to hear us by lifting up their small ears (looks like they are listening hard) and waiving their tails when we talk to them the girls are allowed to sit in the box for a while per day - WOW! have they long for this or what! The puppies seems to like new things to taste and the white female places herself into the laps to sleep when the girls are sitting there.

2011-03-13 This weekend Angelica has competed in JR SM archery. She ended up on 9th place after an exciting final. Super congratulation girl and very well done! =) The rest of the family sat at home keeping fingers crossed and hold the breath.... we did not get less nervous of the fact internet did not work.....

The puppies have both shown signs of eyes and open them this weekend. They also "run" more than walking even though they do not have the total balance for it yet. You got a lot of laughter when studying them fallen on side when trying to run. Beside, so typical Laekenois, they are trying to bite each other or their own legs - also without big success..... hahahaha... Brizna seems to think it is time for them to play because she went after the through-knot and simply dropped it in the for puppy box! eh... well... she just have to wait a bit longer - they are not THAT early! One more male got spoken for - Welcome to the "Vajert clan" Claus with family - during the weekend so now it is just two left =)

2011-03-09 The puppies went 1 week old today! Photos, nail cut, new weight, new ribbons and normal "gone true" have been on the schedule today. All have double their weight from birth ;) They have started to walk more than craw and you can se clearly thy are using their smell sense. You can also se that when they crawl up on each other they begin to open their mouth to test what they can get hold on (bite the brother..). The result is spitting and sneezing when the tough got fur on it.... yerrk .... They also smell phrenetic on you hands when holding them - al ready! Today when I handle the white female she licked me on my cheek ;))) WOW!

Males 1 week old: Black, yellow, blue and orange - 1 is spoken for.
Females 1 weeks old: White and Red - both spoken for.
Tails when the milk is coming ......

White female is pleased

A pillow is nice

Crowdie in the food bar



2011-03-07 Yesterday we took new photos and new weight. They have gain weight quite a bit since birth! Brizna is very happy took some big lap of honor in the yard before she went in to the pups again =).


Males 4 days old: Back, yellow, blue and orange - 1 spoken for.
Females 4 days old: White and Red - both spoken for.
Head photo, White female.

Red, female


Black male and white female
.

Head photo. Yellow male


Orange, male

Head photo, blue male


2011-03-03 As we feared one of the males did not make it, but the rest of them are doing fine and mum, Brizna, is super with them. Today we have taken new weight and some photos of them =) The females and one of the males, do not know whom yet, are spoken for. To the other tree males serious inquires are most welcome ;-)

Males: Black, Yellow, blue and orange - 1 spoken for.

Females: White and Red - both spoken for.

The color of Belgian. Red, Black and Yellow ;)


White female.

Red female sleeping her special way.

Orange male as a true Laekenois sleeping up side down already ;)

Yellow and Orange male together.

2011-03-02 Early this morning Brizna gave birth to the puppies! 7 with the sex of 5 males and 2 females. When writing this it looks like one of the males might not make it, but the rest of them and the mother is good =).

2011-03-01 The night has been a worry. Brizna has not find anywhere to get some sleep other than for shot moments. Well her behavior is natural, but I can not help to feel a bit sorry for her. Heavy and probably feeling strange in body while been so close to delivery. Hungry but get nauseous when smelling the food - shoving away the bowl like she wants to hide it. Do remember clearly how it was for myself close to birth ;)
FEBRUARY
2011-02-28 I do have a female here that can not find rest. She does not want food and is drinking very little. The temperature is not anything to react on so far, just guessing it still can be a few days left. The rest of the pack have become quiet in a special way and that use to be a sign it will happen soon ;)

2011-02-21 Now Alpha is a big girl! She has started her heat :)

In the house we got "spot-sickness" well, Stephanie got spots all over her - Chickenpots! Cassandra has started her winter-holiday and we went to Askersund to se a movie, but it was no tickets left! And the queue where long out on the street!!! Tomorrow they will show the same movie in Åmmeberg, we will try to se it there instead. Angelica and Hannah landed in England this morning. There they will attend on the big Viking marked in York and soon my mother, brother with girlfriend, sister and brother 2 with their families flew to warmer country. Thailand! I guess that we just have to continuing struggle around on ice roads and way to much snow while they are sunbathing and have "awful" dinks under the parasols..... sough well .... what is a dance at the castle.......

2011-02-17 The R-litter is turning 5 years old today! Sorry to say but it is with mixed feelings we celebrate this because I have no longer right to the female I chosen to put out on breeding terms anymore. Once again I have lost the opportunity to a litter because the woman that has her on breeding terms have not fulfilled the agreement! She has not, despite the fact that I have asked her to several of times, x-rayed the female yet and not given me the information about her heat for the last year. She also owns me a lot of money. From today the female is owned by her fully. I have spoken to the Swedish KENNEL club about this matter several of times and despite the matter is about not follow the written agreement SKK will not help me and I can do nothing except chose to go into a civil law process and if I do nothing says I will actually win it. I will therefore never put out a female on breeding terms anymore.

2011-02-10 What is hidden in the snow arrives in thaw - they say... Here the rain and a few days of sun, back to rain, have made a lot of snow melt and left terrible icy-roads. The walks with the dogs is generated with big danger of break any boons sliding around on the ice. You never know before you leave the house how many times you will end up on your back just that you probably will. On other "thing" that also has "arrived" is all that dog poop you did not managed to pick up between the snowfalls this winter. (yrrrrk). Therefore we had a "shit-day" yesterday. We cleaned the whole yard from the poop we could find and thank God for that because this night and the whole day it has been snowing again. Only 2 hours after the dog have had a race in the yard all track where gone again. Anouk and Alpha, whom been here since yesterday and will go home tonight, just love this weather. Thinking of it ALL my dog love the now but this one-years could probably be outside the whole day if I would let them...... ;) I do not want any more snow! No I am looking forward to the spring and summer but it feels faaaaaar away a day like this. :)

2011-02-08 One jubilate after the other, as I said before, and today the turn has come to Cassandra. Her turn to celebrate - the 9th birthday. We hade her favorite food (winter-time) Pasta Carbonara and princess-cake, but instead of the classic green "cover" we found one with pink =) Cassandra says thank you for all congratulations she got.

Tomorrow it is our brother in law that turns 65 and the farmer owner of Raily, Jeanette, whom having birthday too!

2011-02-07 Today the daughter of my best friend, Tarja at Kennel Turning Leaf´s, is having her birthday. She is turning 3 years old and celebrated her birthday with spots all over her body. Chicken-pots!!! Standing in front of the mirror with her brand new princess tiara and says - Mum, I am so ugly with all the spots in my face! I do not want to be ugly on my birthday! Awww..... The girl is cute as sugar and no spots in the world can change that.

2011-02-06 The birthdays within the family and among friends are close right now =) My uncle, Magnus, turned 50 the 2nd and one of the cousins to the girls turned 19 the 3rd. We did not attend to Magnus, "open house", but the once that where there have told us it was a nice celebration and a lot of peoples there to congratulate. Unfortunately the sandwich-cake where the worse they ever had tasted - bad considering it where bought from a confectioner that calls them self "Stockholms best confectioner's on sandwich-cakes and cream buns"..... I think they need to change that slogan.....

Today Mats (Sinanjus kennel) turns 50 and that we celebrated yesterday. The party where great with good food, live music and high atmosphere the whole evening. Cassandra and Stephanie danced the whole night long =) Two cute party-princesses fro sure!!!

2011-02-01
Yesterday, on my birthday, we went to the vet. for ultra-sound on Brizna. We counted to At least 7 puppies and had to re-count several of times because there where so many active puppies inside. In other words it might be more than 7!!! One of the most loving gifts I ever got on a birthday ;) Time of birth in first week of Mars.

Tank you all for the double congratulations by mail, sms, phone, in the guestbook and on FB!

The day before yesterday Angelica competed and got a new silver-medal. Congratulation girl! Despite the cold the family got right now we had a nice dinner and some tasty cake to celebrate Göte and me during the weekend. Now we crosses fingers that Jey do not get what we are having!
JANUARY
2011-01-30 Angelica competed today and got a new silver-medal =) Congratulations girl! The family still have the cold and spend most of the weekend in bed =( Poor Jey was home for the weekend and now probably got what we have. Despite illness we had a nice dinner and some cake to celebrate both Göte and me.

2011-01-27 The whole family is now down with a nasty cold! It is not the flue and that is something to be grateful about. ;) It is also a bit sad we are ill now because it is Götes birthday (today) and no one is up for nicer dinner with desert. Well hopefully we are better the weekend to come and we will celebrate then. Happy 55th birthday husband!

Today we got the official reading from SKK. Vajert Alphas x-ray came back HD-A/A and ED-0/0! Jihaaaaa! Lovely and congratulation to Maria. Now there is an tryout for military work on the schedule and we are waiting for her first heat to start. Good luck with the tryout Maria :) Talking about heat, Azka has just started her first and our advice is to wait with the x-ray until 3 weeks after the heat. Akira had her fist heat late summer last year.

I also want to say congratulation to the owner of Mizzy, Helene, that had her 55th birthday yesterday!

2011-01-23 I did managed to go to the dinner yesterday. Lovely time and a lot of subjects where discussed and Anita makes the most tasty food there is. Göte came in the evening to pick me up and had Anouk with him. Very nice to se how good he was around the dogs of Linda and with the old male of Anita. He even got the old (10 years) to play with him in the garden. That was nice done - from both of them I might say. So happy to se Anouk's behavior and he is so easy to bring along. Thank you so much for the lovely afternoon and evening =)

Angelica competed yesterday and got nice 450 points. No, she is not happy over that points but with the nasty cold she got the question is if she should have been there at the first place. Well we say congratulation anyway and want to remind her that: several of elite athletics in, for example, slalom - usually on the prize-stool - do miss a turn and ski out in the first race sometimes ..... ;)

2011-01-20 I woke up this morning with "sand" in my eyes. Very sensitive towards light and the body felt like it been run over by a truck or something. Wonder what this will lead too.... Have no time to be ill now. The club- magazine have had the stop again and I am setting adds and all text to get it done for corr. reading and to send it to the printer. Beside, I have been invited to dinner at Anita and Hasse (Kennel Fannyhill´s) on Saturday and will not miss that for the world.

2011-01-18 When I talked to Maria, co-owner of Alphas, today she told me that Alpha reacted on the anesthetic for the x-ray. Everything went ok though, and now we will bite our fingernails until the official reading from SKK will come back. Stephanie is ill. We do hope it is not the flue, but are not sure yet.

2011-01-17 Today we got a visit from Azka with owner and mother =) Very nice and tasty bread to the coffee - tanks =) Anouk and Rex played in the kitchen and accidently hit the stove and the glass on the lower door exploded!!! Thousands of small peaces of glass all over the kitchen and our hearts did take a big jump in our chests. Anouk and Rex? Nope - Neither of them reacted at all ...... Despite that accident we had a very nice time and thank you so much for the visit. Now we will keep fingers crossed that the house you are looking at will be yours! Good luck!

2011-01-12 The problem with the outgoing mail is now solved. I had to call the support and pay 300 SKr to get help. The fee one could not help me!?! Anyhow I got a very nice man in the other end of the line and he fixed the problem for me =) It turned out the antivirus-program needed a new rule how to deal with outgoing mails from the kennel - now when it got it everything is ok again!

Sorry to say we did not get the house we liked so much :(

2011-01-09 Now the "normality" is back in the house. Jey is back in Stockholm, Angelica back in Olofström and the heat system is fixed so we now have heat in the house again. Angelica and I where down in south of Sweden (Småland) and looked at a house for rent. We liked it a lot! ;)



2011-01-01 After a nice visit from Maria and Alpha today I am trying to do the obligatory looking back on the year 2010. Hopefully I will also been able to update.....

2010 - well the year started very nice with because we had the fortune to follow the A-litter when they where playing and exploring the snow. A lot of nice photos where taken :) It is a joy, and hard work, to follow puppies develop during the first 8 weeks but it is also a "sting" in the heart se them leave one by one to their new life's. You can only hope the new owners will send a photo and some lines about how things are going now and then. I, as a breeder, are very lucky in this case. Almost all within the "Vajert-clan" are keeping me posted with photos and stories about their daily life and it makes me so happy every time just getting a life sign! THANK YOU!

The hardest time during the year where the lost of Even. The lovely boy turned out to be sick and it was bad. The decision to put him down where so hard, but out of any doubts - you do not keep a dog alive that are suffering - yet terrible painful to go throe. Still miss him so much.

Happy kennel-happenings are that it is a lot of Vajert dogs with owners that has done great during the year! First Raily approved as an guard-dog and are now working as one with his new owner, then we had a very nice generation meeting at the show at IVÖn. Inja and her great-grandchildren and speaking of Inja, she have had a huge success in the show rings this year! Rex ha his at Ivön and in the end of the year at the Nordic Winner show in Norway where he got CAC, BOB and the title. In Denmark at the WW-show we had a fascinating "fight" in the open class females - it where between Brizna and Susanne´s Gina and the judge had BIG problem whom to choose for the class winner. Gina finally got it for her lovely movements and Brizna got R-CACIB. Talking about the WW-Show I humble and warmly want to thank both Sari and Hannu for picking me up to get there over all! Vajert Dimma became Danish Winner 2010 and Vajert Xena became Norwegian Winner 2010! WOW! Three winner titles in one year and that on tree different generations!!! Azzlan, Alpha and Anouk have also had success in the show ring here in Sweden and Akira dig get very nice critics in Schweitzer land where she ended up as 2 best female! Lovely! All the dogs success, no matter in what they done, can be read about on their own pages. I hope you all will continue to send me what you are doing with your dogs and please send photos!- we love to read about it and look at the photos! =) It make us feel part of your life =))

I will also want to Thank you all Vajert-dog owners for what you are doing with your dogs and for doing it so great!

The winter came early this year and stayed too! A lots of snow and very cold!

Beside for the rain that heavy fall from the sky New Years evening (!) the year of 2010 stopped the way it started sort of. The heating system in our house broke down, the electric power in our village disappeared. The whole village went black! The last where kind of fun. We where watching TV and 23.20 the power went of and did not come back until 00.10!! So we lighten up candles all over the house and I read a Viking story for the girls. Then, at midnight, we got champagne for the New Year in the light of the candles =) an looked towards the black sky where all the fireworks lighten up the sky in all kinds of beautiful colors. Kind of cozy ending!

2011 then .......

We do have plans for 2011 and our hopes are off course that it REALLY WILL GO the way we plan and are wishes for (just in case we do have a plan b, c and d to go for wise our of earlier experience, but would love it if plan A will happen - just for a change). We have a lot of exciting happenings to look forward to even if some of them are a bit to exciting (x-ray of the A-litter and moving to.....?......) New puppies, mating with Raika in Germany the upcoming summer, Angelica will graduate and Jey are turning 18 this summer! MH (the small mentally-test) at A-litter and one or two (probably some more) shows to attend to. The training-books have already new goals and part-goals written in. I would also like to have the chance to travel abroad (holiday-trip) during the year, but I´m not sure it will be any time left for that ;) Not to forget is the year-event at Stallarholmen - The VIKING festival!